Are you looking for osteopathic manipulative therapy Mount Clemens MI?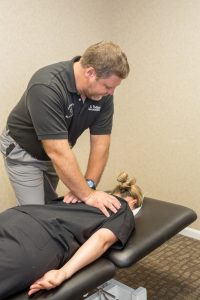 Osteopathic Manipulative Therapy is hands-down the best treatment method to combat pain and other symptoms related to problems with the musculoskeletal system; however, a trained and qualified osteopathic doctor must be the one to perform it. Luckily, our osteopathic doctors at Osteopathic Health Care Associates are renowned for their skills as well as their passion for helping people fight back against their pain. Our osteopathic doctors use Osteopathic Manipulative Therapy because it is gentle, effective, and does not cause adverse symptoms the way most other treatments do. Whether you are a senior in college suffering from a sports injury or a senior in life suffering from a musculoskeletal condition, Osteopathic Manipulative Therapy could potentially change your life. All you have to do to find out is trust our osteopathic doctors, Dr. Shane Patterson and Dr. Mary Goldman, and give our Osteopathic Manipulative Therapy a try. Osteopathic Manipulative Therapy is safe for patients of all ages and can be used in a myriad of diverse ways to improve the overall quality of your health, so what are you waiting for? We're confident that you won't regret our Osteopathic Manipulative Therapy services once you experience them for yourself.
Osteopathic Manipulative Therapy Mount Clemens MI
At Osteopathic Health Care Associates, we're proud to give our remarkable osteopathic doctors the opportunity to use Osteopathic Manipulative Therapy to help patients in Mount Clemens, MI, find the pain relief they deserve. Only a 20-minute drive from the Osteopathic Health Care Associates office in Utica, the culturally diverse community of Mount Clemens is full of excitement no matter who you are. From being the place where famous rock star Kid Rock first earned his claim to fame, to being the center of all nightlife in Macomb County, no one can deny that Mount Clemens is an incredible place to live, work, and play. In fact, despite the fact that the area itself is less than five square miles, Mount Clemens still boasts a pretty heft population of more than 16,000 residents. While the Anton Art Center, and the Crocker House Museum all remain staple destinations that every Mount Clemens resident knows well, the pride and joy of Mount Clemens remains "The Clem." This massive spread of incredible bars and clubs in Mount Clemens, like The Emerald Theatre, offers exceptional libations and entertainment for countless patrons from all over every year. If you live in Mount Clemens, don't be afraid to make that short drive over to our office in Utica. Our Osteopathic Manipulative Therapy services can have you feeling fantastic in no time.
If you are looking for osteopathic manipulative therapy Mount Clemens MI, call 586.221.2791 or fill out the schedule an appointment form in the sidebar or below to learn more about Osteopathic Manipulative Therapy and how it can help you:
Schedule an Appointment
Fill out the form below for a call back from one of our office staff to schedule your appointment. If you need a same day appointment, please give us a call at 586.221.2791.