Are you looking for osteopathic doctors Mount Clemens MI?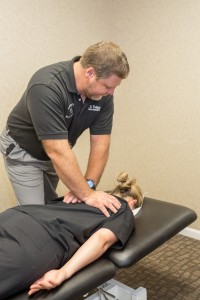 Unlike modern medical practices wherein doctors treat symptoms with medications and fall back on surgeries and procedures for persistent or reoccurring conditions that cause chronic pain, Osteopathic Health Care Associates, like Dr. Shane Patterson and Dr. Ryan Christensen at Osteopathic Health Care Associates, prefer to utilize a holistic approach to patient care by relying on Osteopathic Manipulative Therapy techniques and other alternative methods to effectively penetrate the surface symptoms that get in the way to treat the root cause of the condition. With years of comprehensive education and specialized training, osteopathic doctors, Dr. Shane Patterson and Dr. Ryan Christensen, continue to prove their excellence within the medical community by helping patients of all ages live better, healthier, more fulfilling lives everyday. For many people, but especially seniors, chronic pain caused by various musculoskeletal conditions are a part of life, but that doesn't mean it should keep you from living life to the fullest. At Osteopathic Health Care Associates, our osteopathic doctors are committed to providing you with the best care by listening to you and giving you the support you deserve.
Osteopathic Doctors Mount Clemens MI
At Osteopathic Health Care Associates, we're proud to offer the most exceptional osteopathic doctors to residents living in Mount Clemens, MI. For more than 200 years, from its first distillery, which helped colonize the land, to an impressive 100-year span of exceptional success in the bath industry, Mount Clemens has always been known as a place for incredibly indulging experiences. Today, residents of Mount Clemens respect their traditions and heritage, by living a lavish life worthy of their century of fame and recognition. Tourists travel from all over to visit The Olympia Salon and Spa, which to this day offers all the essential award-worthy luxury spa services that helped Mount Clemens earn it's reputation. Only in Mount Clemens can you truly experience the past in a way that leaves you feeling refreshed, thanks to locally famous mineral baths. Mineral baths and other spa services can make anyone feel relaxed, but that's just what holistic medicine and alternative treatments do, promote healing from within to help you feel better all over. If you want to take your holistic, patient-centered care a bit further for more comprehensive health and wellness, you need to trust one of the highly respected osteopathic doctors at Osteopathic Health Care Associates. Only osteopathic doctors, like those at Osteopathic Health Care Associates, are qualified to utilize the best of both modern and holistic medical treatments including Osteopathic Manipulative Therapy to help patients of all ages effectively find the relief they've been looking for.
If you are looking for osteopathic doctors Mount Clemens MI, call 586.221.2791 or fill out the schedule an appointment form in the sidebar or below to learn more about Osteopathic Manipulative Therapy and how it can help you:
Schedule an Appointment
Fill out the form below for a call back from one of our office staff to schedule your appointment. If you need a same day appointment, please give us a call at 586.221.2791.