Are you looking for osteopathic manipulative therapy Anchor Bay MI?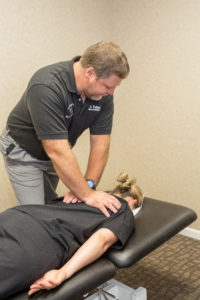 Whether you have one of the more than 100 existing musculoskeletal conditions or are simply trying to recover from a sports-related injury, Osteopathic Manipulative Therapy can help. At Osteopathic Health Care Associates, we believe in the power of Osteopathic Manipulative Therapy not only because of its proven clinical success and worldwide reputation, but also because of our own personal experience helping countless patients change their lives. Osteopathic Manipulative Therapy is a gentle and pain-free course of treatment that can be used to alleviate symptoms persisting in the bones, joints, or muscles of patients of all age, and is widely revered for both its overall effectiveness and lack of negative side effects. If you experience chronic pain every day, and have already tried other treatment methods, Osteopathic Manipulative Therapy can give you back the life you had before the pain. Let our Osteopathic Manipulative Therapy specialists Dr. Shane Patterson and Dr. Ryan Christensen, and the newly added Dr. Mary Goldman help you take your life back, one session at a time. We promise you won't regret giving Osteopathic Manipulative Therapy a try. After all, what do you have to lose except your pain?
Osteopathic Manipulative Therapy Anchor Bay MI
At Osteopathic Health Care Associates, we're proud to give our remarkable osteopathic doctors the opportunity to use Osteopathic Manipulative Therapy to help patients in Anchor Bay, MI, find the pain relief they deserve. A little more than a 20-minute drive from the Osteopathic Health Care Associates office in Utica, the beautiful coastal area of Anchor Bay is known most of all for its countless exceptional boating clubs and ports. All of the Anchor Bay communities surrounding the magnificent body of water for which they all are named, including Anchor Bay Gardens, Anchor Bay Harbor, and Anchor Bay Shores, are part of Chesterfield Township in Macomb County. Anchor Bay is one of the best areas for boaters and fishermen who love Lake St. Clair, providing recreation and natural entertainment all year long. Other notable destinations nearby include The Selfridge Air National Guard Base, which has its own golf course, and the Lake St. Clair Metropark, where you can find all kinds of exciting opportunities. Also not too far away are the Bello Woods Golf Course, the Hickory Hallow Golf Club, CJ Barrymore's Entertainment, and Jungle Java, which each offer a unique blend of adult and family-friendly adventures perfect for any afternoon. However, one of the greatest things about Anchor Bay is its proximity to the best Osteopathic Manipulative Therapy services in the state, available only at Osteopathic Health Care Associates.
If you are looking for osteopathic manipulative therapy Anchor Bay MI, call 586.221.2791 or fill out the schedule an appointment form in the sidebar or below to learn more about Osteopathic Manipulative Therapy and how it can help you:
Schedule an Appointment
Fill out the form below for a call back from one of our office staff to schedule your appointment. If you need a same day appointment, please give us a call at 586.221.2791.