Are you looking for osteopathic doctors New Haven MI?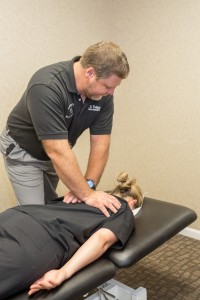 Osteopathic doctors, like Dr. Shane Patterson and Dr. Ryan Christensen, believe that in order to offer patients the most effective and lasting relief from the numerous symptoms associated with their common musculoskeletal conditions, they must go beyond modern medical practices and temporary solutions to find and effectively treat the root cause of the affliction responsible. Osteopathic medicine relies on a hands-on holistic approach utilizes Osteopathic Manipulative Therapy techniques and other lifestyle adjustments to promote self-healing within your body. At Osteopathic Health Care Associates, our osteopathic doctors, Dr. Shane Patterson and Dr. Ryan Christensen, are highly-trained and compassionate professionals who are motivated to help you change your life. With the knowledge and experience of our expert osteopathic doctors, and your cooperation and commitment, together we can get you back on track to feeling amazing. Don't let poor mobility or stiffness in your joints keep you from living every day exactly how you want to. At Osteopathic Health Care Associatess, our osteopathic doctors, Dr. Shane Patterson and Dr. Ryan Christensen, can help you find the relief you've been looking for thanks to our exclusive Osteopathic Manipulative Therapy and other exclusive services.
Osteopathic Doctors New Haven MI
At Osteopathic Health Care Associates, we're proud to offer the most exceptional osteopathic doctors to residents living in New Haven, MI. Not only is New Haven a fantastic community to be a part of, having even hosted famed guests such as Thomas Edison and actor Mickey Rooney, but it also boasts an exceptional history. Established in 1835 by the French, New Haven became a quickly expanding railroad town, bustling with a constant influx of new people and resources from all over. Today, New Haven remains a quiet simple town, proud of tradition and focused on charm. In New Haven, residents can enjoy safe neighborhoods, clean parks, excellent schools, and tons of amenities and services, without missing out on the one-of-a-kind simplistic architecture and timeless aesthetic. The natural beauty of New Haven is just one of the numerous reasons so many people choose to retire here, but as much as you may sometimes want to get out and take a long walk in the fresh air, joint pain and other conditions can prevent you from doing so when you want. Fortunately, there is something you can do right now. Choose Osteopathic Health Care Associates to get in touch with one of our highly respected osteopathic doctors, and see all the ways natural treatments such as Osteopathic Manipulative Therapy can benefit you.
If you are looking for osteopathic doctors New Haven MI, call 586.221.2791 or fill out the schedule an appointment form in the sidebar or below to learn more about Osteopathic Manipulative Therapy and how it can help you:
Schedule an Appointment
Fill out the form below for a call back from one of our office staff to schedule your appointment. If you need a same day appointment, please give us a call at 586.221.2791.