Are you looking for osteopathic manipulative therapy Chesterfield MI?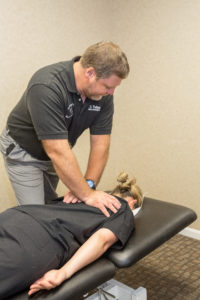 When it comes to treating patients effectively, our osteopathic doctors at Osteopathic Health Care Associates choose to rely on Osteopathic Manipulative Therapy. Not only is Osteopathic Manipulative Therapy a gentle and non-invasive approach to managing the more than 100 common and incurable musculoskeletal conditions that exist today, it remains one of the most effective known treatments around the world. Most healthcare professionals will try to cover up pain with prescription medications or use surgery to supposedly eliminate the problem, but these options almost always end up causing more problems and side effects over time. The great thing about Osteopathic Manipulative Therapy is that there are no negative symptoms or side effects. With Osteopathic Manipulative Therapy you can find long-term relief from all your aches and pains without suffering all the hidden downsides that usually accompany traditional medical treatments. It's clear to healthcare professionals around the world that Osteopathic Manipulative Therapy really does work. If you want to experience a whole new kind of healthcare, trust our Osteopathic Manipulative Therapy professionals, Dr. Shane Patterson and Dr. Ryan Christensen, and the newly added Dr. Mary Goldman, at Osteopathic Health Care Associates, today.
Osteopathic Manipulative Therapy Chesterfield MI
At Osteopathic Health Care Associates, we're proud to give our remarkable osteopathic doctors the opportunity to utilize Osteopathic Manipulative Therapy on people in Chesterfield, MI, in order to help them find the relief they deserve from the pain that plagues their life. Only a 15-minute drive from the Osteopathic Health Care Associates office in Utica, the community of Chesterfield is known for its incredible dedication to residential satisfaction. As valued citizens of Chesterfield Township, residents of the community of Chesterfield are able to take advantage of all the surrounding opportunities available throughout the year. For instance, a few of the most popular bar/pubs in Chesterfield are the Hamlin Pub Chesterfield, New York New York, Diamonds & Spurs, and the Wintergarden Tavern. Chesterfield also offers access to a number of clean natural parks such as Brandenburg Park, Pollard Park, Veteran's Memorial Park, and Webber Paddle Park, as well as a few expertly designed recreation areas set up for the community including the Township Youth Center and the giant Municipal Office Complex. For those who want a little more organized fun, Chesterfield provides residents with chances to enjoy a variety of events all year long, such as concerts in the park, family fun nights, festivals, organized sporting events, summer day camps, informative classes, and so much more. Despite its size and seeming isolation, Chesterfield truly is an incredible place to live, work, and play no matter how old you are. Though if you do happen to be a little older, or if your body feels that way at least, let our osteopathic doctors at Osteopathic Health Care Associates help with effective Osteopathic Manipulative Therapy services. You won't regret taking a chance on us.
If you are looking for osteopathic manipulative therapy Chesterfield MI, call 586.221.2791 or fill out the schedule an appointment form in the sidebar or below to learn more about Osteopathic Manipulative Therapy and how it can help you:
Schedule an Appointment
Fill out the form below for a call back from one of our office staff to schedule your appointment. If you need a same day appointment, please give us a call at 586.221.2791.