Are you looking for a sports medicine doctor Troy MI?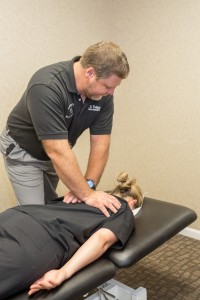 Athletes, fitness enthusiasts, and participants at every level of sports can benefit from a sports medicine doctor.   For dedicated, competitive athletes, overuse can cause stress and injury.  Multiple practice session and a full schedule of games or matches can leaving you feeling sore and missing shots.   For occasional participants, being out of practice, inadequate physical conditioning,  performing inadequate warm-up exercises, and using poor form can cause muscle strains and injury.
Being treated by a physician who understands how the systems and structures of your body work together can and how a body that is properly aligned can help you make progress in your performance,  and shorten healing and recovery times, and prevent future injuries.  When sports require you to perform actions that place unique demands in the wrist, neck, shoulder, back or forearm, overuse injuries occur. Tennis elbow, shoulder tendinitis,  can slow you down on and off the court.
At Osteopathic Health Care Associates, Dr. Shane Patterson provides comprehensive evaluation and treatment for athletes at every level.  When chronic injury has kept you sidelined, and you have tried drugs, therapy, or even surgery unsuccessfully, Dr. Patterson can help.  As a Board Certified Internist and Osteopathic physician,  Dr. Shane Patterson uses Osteopathic Manipulative Therapy (OMT) to restore pain-free movement and increased range-of-motion in as few as three visits.  Your musculoskeletal system consists of your spine, joints, muscles, bones, and connective tissue that gives your body stability and movement.  These structures are interdependent, so an issue in a hip or knee can cause pain in other areas of your body.  OMT uses a series of manual techniques to treat the musculoskeletal malfunctions that are affecting your performance and causing pain.
Sports Medicine Doctor Troy MI
Dr. Shane Patterson is pleased to offer sports medicine services to athletes and amateurs in Troy, Michigan.   Troy is a suburb of Metro Detroit that caters to the active members of the community with sports and fitness programs for residents of every ability and beautiful facilities that make getting out and getting active a pleasure.   If pain from an injury  is keeping you from enjoying all that Troy has to offer, call on Dr. Shane Patterson and Osteopathic Health Care Associates.
If you are looking for a sports medicine doctor Troy MI, call 586.221.2791 or fill out the schedule an appointment form in the sidebar or below to learn more about Osteopathic Manipulative Therapy and how it can help you:
Schedule an Appointment
Fill out the form below for a call back from one of our office staff to schedule your appointment. If you need a same day appointment, please give us a call at 586.221.2791.