Are you looking for a pain management doctor Troy MI?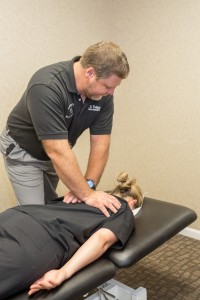 For patients who suffer with chronic pain in the lower back, migraines, sciatica, or chronic joint pain, traditional medicine offers relief through pain killers and surgery, with no guarantee of relief. Osteopathic physicians are trained in diagnostic and treatment techniques that treat the patient as whole being, rather than a set of symptoms and are excellent choices as a pain management doctor. Using a hands-on approach that develops a personal connection with your health care provider, an osteopathic physician will examine your physical, mental and emotional state and help you craft a plan that will bring you to your optimum state of health. In keeping with the osteopathic philosophy that all the structures and systems are connected, your osteopathic physician has been specially trained in techniques that treat musculoskeletal problems with stretching, resistance and gentle pressure to alleviate strain and allow proper function of your body. This series of techniques is a great solution for pain management and is known as Osteopathic Manipulative Therapy (OMT), and it has restored quality of life for people from every walk of life.
For those who struggle with chronic pain, OMT has been particularly important in providing relief. The gentle manipulations used in treatment rebalance muscles and realign joints, relieving pressure and inflammation without prescription drugs. This effective treatment is gentle enough for women in the third trimester of pregnancy as well as seniors and growing teens. Osteopathic physicians believe that our bodies have the ability to heal itself, so long as muscles, joints and soft tissue are balanced and in alignment. If you live with daily pain, but are wary of the dangers of surgery and prescription pain medication, Osteopathic Manipulative Therapy can help. We focus on the solution to pain management rather than masking the pain.
Pain Management Doctor Troy MI
Troy is part of the metropolitan Detroit area, with a thriving technology business landscape and great community programs that bring neighbors together.  Osteopathic Health Care Associates is proud to offer OMT, to Troy, Michigan residents, by a board-certified Osteopathic Internal Medicine Physician. Our knowledgeable and caring staff is here to help you manage or eliminate your chronic back or joint pain.
If you are looking for a pain management doctor Troy MI, call 586.221.2791 or fill out the schedule an appointment form in the sidebar or below to learn more about how your health can benefit from Osteopathic Manipulative Therapy:
Schedule an Appointment
Fill out the form below for a call back from one of our office staff to schedule your appointment. If you need a same day appointment, please give us a call at 586.221.2791.