Are you looking for a sports medicine doctor Sterling Heights MI?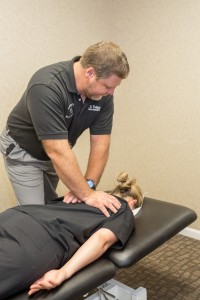 Dr. Shane Patterson is a board certified internal medicine physician who practices medicine in keeping with the osteopathic philosophy.  Osteopathic physicians have been trained to diagnose and treat patients as a whole being, rather than a collection of symptoms. Osteopathic Manipulative Therapy (OMT) is a non-invasive, hands-on therapy used to diagnose and treat dysfunctions of the musculoskeletal system, including the bones of the skeleton, muscles, cartilage, tendons, ligaments, joints, and other connective tissue that supports and binds tissues and organs together.  When any of these structures are out of alignment, compensation for joint instability or musculoskeletal imbalance can lead to decreased performance and further injury.
Osteopathic Manipulative Therapy has been shown to be effective in maintaining flexibility, improving strength, for treating repetitive use injuries like bursitis, tendonitis, and Iliotibial band friction syndrome that affects runners, cyclists, weight lifters, skiers, soccer players, tennis players, football players, athletes engaged in circuit training, and active adults. At Osteopathic Health Care Associates, we specialize in drug-free pain management, and use the latest research and cutting edge techniques to help increase your strength, extend your range-of-motion, and optimize your body's natural healing ability.  Osteopathic Manipulative Therapy is safe for athletes of all ages, and has been shown to reduce the reliance on surgery and drugs.
Sports Medicine Doctor Sterling Heights MI
Dr. Shane Patterson and his team of caring professionals is proud to offer their life-changing care to athletes and fitness enthusiasts in Sterling Heights, Michigan, as a sports medicine doctor. Sterling Heights is the second largest suburb in Metro Detroit, and consistently ranks as the safest city in Michigan with a large population.  Residents and visitors enjoy the beautiful park system maintained by the city, and they flock to Sterling Heights each July for Sterlingfest, a three-day music and art festival that features the work of local artisans, outdoor concerts, and a 5K Fun Run & Walk. Remember, you don't have to be a professional athlete to receive great care from a qualified sports medicine doctor. Don't let pain and injury keep you from enjoying the best that cities like Sterling Heights has to offer.
If you are looking for a sports medicine doctor Sterling Heights MI, call 586.221.2791 or fill out the schedule an appointment form in the sidebar or below to learn more about Osteopathic Manipulative Therapy and how it can help you:
Schedule an Appointment
Fill out the form below for a call back from one of our office staff to schedule your appointment. If you need a same day appointment, please give us a call at 586.221.2791.