Are you looking for a sports medicine doctor New Baltimore MI?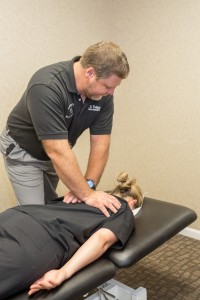 Injuries can slow you down and keep you from performing  your best on and off the court.  At Osteopathic Health Care Associates, we see you as a whole person, rather than only your pain or injury.  We take the time to listen to you and conduct a comprehensive exam to restore you to optimal health and athletic performance.  Dr. Shane Patterson is an osteopathic physician who specializes in the use of Osteopathic Manipulative Therapy to treat tennis elbow,  knee pain, hip pain, shin splints, back pain, golf elbow, strains, sprains, and shoulder pain without drugs or surgery.
Osteopathic Manipulative Therapy has been shown to shorten the recovery time from injury, and prevent injuries from occurring by ensuring better form through proper physical alignment.  Osteopathic medicine is built on the principle that our bodies have the innate ability to heal themselves, and that our bodies bones, tissues and organs rely upon each other and work together.  Osteopathic physicians are specially-trained to evaluate you as a whole–body, mind, and spirit.  By evaluating your entire body, the sources of pain and malfunction can be identified and corrected in a few as three visits.  When there is injury or impingement in your body, it can affect the nearby structures and organs, causing compensation in your movement. Left untreated, these malfunctions slow recovery and sometimes lead to disease. Through a series of gentle techniques performed with the hands, osteopathic physicians stretching,  resistance and  massage to treat pain and restriction in movement.
Sports Medicine Doctor New Baltimore MI
Dr. Shane Patterson and the dedicated staff at Osteopathic Health Care Associates are proud to offer gentle, drug-free sports medicine to athletes and amateurs in New Baltimore, Michigan.  Located on the northern coastline of Lake St. Clair, this historic resort community has maintained its charm while continuing to provide all the convenience of bigger cities.  If you are looking for effective, patient-centered sports medicine in New Baltimore, call on Dr. Shane Patterson at Osteopathic Health Care Associates.
If you are looking for a sports medicine doctor New Baltimore MI, call 586.221.2791 or fill out the schedule an appointment form in the sidebar or below to learn more about Osteopathic Manipulative Therapy and how it can help you:
Schedule an Appointment
Fill out the form below for a call back from one of our office staff to schedule your appointment. If you need a same day appointment, please give us a call at 586.221.2791.