Are you looking for a sports medicine doctor Clinton Township MI?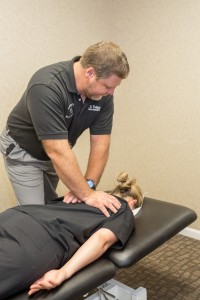 At Osteopathic Health Care Associates, Dr. Shane Patterson integrates proven medical treatments with hands-on manipulation and nutritional therapies to provide fast pain relief and improve the overall health of his patients.  Dr. Patterson is a board certified, osteopathic physician who uses his training and experience to provide relief for athletes,  devoted fitness enthusiasts, and reluctant couch potatoes.  Anyone who moves can incur an injury that is best treated by a sports medicine doctor.  As an osteopathic physician, Dr. Patterson has been trained to see each patient as a complete being, with physiological systems that are interdependent and interconnected.  Understanding how our musculoskeletal system affects nearby organs and muscles enables  Dr. Patterson to use palpation to conduct an extensive examination that identifies abnormalities that can affect function.  Following an injury, compensation for instability or discomfort caused by joint injury or musculoskeletal imbalance can make problems worse.  Favoring a painful shoulder, knee, or hip while you work and engage in other daily living activities can increase the stress on other parts of your body, causing further injury.
When you're in pain, your main objective is to get relief as quickly as possible.  Dr. Shane Patterson has been specially-trained in the osteopathic philosophy, including Osteopathic Manipulative Therapy (OMT).  This drug-free treatment approach uses a series of techniques involving gentle pressure, stretching, and resistance to eliminate your pain and get you moving in as few as three visits or less.  Osteopathic Manipulative Therapy has been shown to be an effective treatment by sports medicine doctors for repetitive use injures like Iliotibial band friction that plagues runners, skiers, tennis players, cyclists, soccer players, football players, weight lifters and anyone who engages in circuit training.
Sports Medicine Doctor Clinton Township MI
In his practice at Osteopathic Health Care Associates, Dr. Shane Patterson provides prompt, effective relief for athletes of all levels in Clinton Township, and throughout lower Michigan.  Clinton Township welcomes athletes and active residents by offering a wide variety of sports and fitness programs at local parks and community centers.   Don't let injury keep you from performing at your best.  Get back in the game with Dr. Shane Patterson.
If you are looking for a sports medicine doctor Clinton Township MI, call 586.221.2791 or fill out the schedule an appointment form in the sidebar or below to learn more about Osteopathic Manipulative Therapy and how it can help you:
Schedule an Appointment
Fill out the form below for a call back from one of our office staff to schedule your appointment. If you need a same day appointment, please give us a call at 586.221.2791.