Are you looking for a pain management doctor Roseville MI?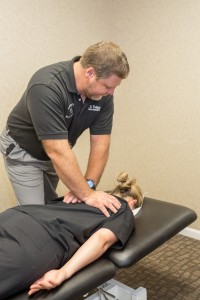 Dr. Shane Patterson is a board-certified osteopathic physician who specializes in pain management by taking a patient-centered, holistic approach to health care. As an osteopathic physician,  Dr. Patterson practices medicine based on the philosophy that the organs, bones and tissues in our bodies are connected and depend upon each other for proper function. When these structures are out of alignment and proper balance, they cause chronic pain and disease. Dr. Patterson uses a hands-on palpatory exam as a part of Osteopathic Manipulative Therapy (OMT). OMT is  a non-invasive, hands on therapy to diagnose and treat dysfunctions of the musculoskeletal system.  Through a series of techniques that involve gentle pressure, stretching and resistance, your body will be restored to proper alignment, restoring comfortable movement without drugs or surgery. In treating your chronic pain, Dr. Shane Patterson and the dedicated staff at Osteopathic Health Care Associates conduct a comprehensive assessment of your work habits, lifestyle, exercise and dietary history, as well as a history of diagnoses and treatments. Through this approach, Dr. Patterson can treat the underlying cause of your pain and help you reach optimum health through patient education and prevention. Patients who have come to Osteopathic Health Care Associates have found real and lasting relief from chronic back pain, neck pain, sciaticafibromyalgia, traumatic injury, overuse syndrome, carpal tunnel syndrome, costochondritis, extremity pain, TMJ syndrome, migraines and tension headaches. Choose natural, effective Osteopathic Manipulative Therapy for safe, effective pain management.
Pain Management Doctor Rochester MI
Dr. Shane Patterson and the staff at Osteopathic Health Care Associates are pleased to offer pain management and a full-range of health care services to Rochester, Michigan and its neighboring communities. Rochester is a northern suburb of Detroit that provides a welcoming home for over 12,000 Metro Detroiters. Downtown Rochester is known for yearlong community events sponsored by businesses and local governments. With celebrations like Art & Apples, the Heritage Festival and the Hometown Christmas Parade, residents of Rochester enjoy a small-town sense of community with the best of the big city right at their doorstep.
If you are looking for a pain management doctor Rochester MI, call 586.221.2791 or fill out the schedule an appointment form in the sidebar or below to learn more about Osteopathic Manipulative Therapy and how it can help you:
Schedule an Appointment
Fill out the form below for a call back from one of our office staff to schedule your appointment. If you need a same day appointment, please give us a call at 586.221.2791.