Are you looking for a pain management doctor Roseville MI?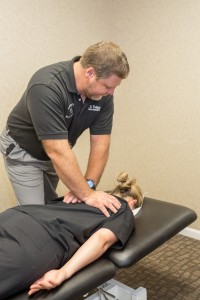 Osteopathic Health Care Associates is an independent,  full-service Internal Medicine practice whose founding physician, Dr. Shane Patterson, specializes in pain management. Dr. Patterson is a board certified osteopathic physician who adheres to the osteopathic philosophy. Osteopathic philosophy holds the belief that the systems and structures of our bodies are connected and depend on each other for proper function. Osteopathic physicians are specially trained in using a patient-centered, hands-on approach to diagnose and treat musculoskeletal issues that impede the body's natural ability to heal itself from pain, disease and injury. Through a series of techniques involving gentle pressure, stretching and resistance, called Osteopathic Manipulative Therapy (OMT), an osteopathic physician can diagnose and treat patients without drugs, and restore maximal, pain-free movement of the musculoskeletal system and enhance neuromuscular function. Patients have come to Osteopathic Health Care Associates and Dr. Shane Patterson for relief from migraines, tension headaches, fibromyalgia, sciatica, pain from failed surgery, degenerative joint disorders, lipedema, sports, auto and work related injuries, fibromyalgia, traumatic injury, overuse syndrome, carpal tunnel syndrome, costochondritis, extremity pain and TMJ syndrome. Chronic pain affects more than 50 million American adults, many of whom end up having painful surgery or dependence on dangerous pain killers. Choose natural, effective Osteopathic Manipulative Therapy for safe, effective pain management.
Pain Management Doctor Roseville MI
Dr. Shane Patterson and the staff at Osteopathic Health Care Associates are changing the lives of patients with chronic pain in Roseville and throughout Lower Michigan. Roseville, Michigan is a northern suburb of Detroit that grew among the communities along Lake St. Clair. It takes its name from a veteran of the War of 1812, and is known for being home to Michigan's first commercial airport, Packard Field, that opened in 1919.  Today, Roseville boasts extensive community recreation programs and offers a wide variety of residential, commercial and industrial opportunities for businesses and families.  If your chronic pain is holding you back from making the most of opportunities in your home town, call on Dr. Shane Patterson at Osteopathic Health Care Associates.
If you are looking for a pain management doctor Roseville MI, call 586.221.2791 or fill out the schedule an appointment form in the sidebar or below to learn more about Osteopathic Manipulative Therapy and how it can help you:
Schedule an Appointment
Fill out the form below for a call back from one of our office staff to schedule your appointment. If you need a same day appointment, please give us a call at 586.221.2791.