Are you looking for osteopathic manipulative therapy Richmond MI?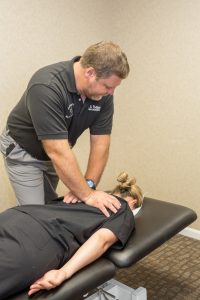 With medications and surgeries seemingly taking over healthcare, the need for qualified osteopathic doctors who understand and can effectively perform Osteopathic Manipulative Therapy is greater than ever before. Fortunately, at Osteopathic Health Care Associates, we still put our patients first, meaning we choose to utilize the incredible, symptom-free, healing power of Osteopathic Manipulative Therapy over other harsher treatment methods. Whether you're an athlete with a minor injury or a mom with serious back pain, our Osteopathic Manipulative Therapy can have you feeling right as rain and ready for anything life throws at you in no time. Osteopathic Manipulative Therapy is safe for patients of all ages, from children to seniors suffering from intense pain related to a musculoskeletal condition. Our Osteopathic Manipulative Therapy specialists are always friendly and ready to listen to what you have to say. Become a partner in your health by trusting our osteopathic doctors Dr. Shane Patterson and Dr. Mary Goldman, at Osteopathic Health Care Associates today. Simply put your trust in us; there is no better solution to your pain than Osteopathic Manipulative Therapy.
Osteopathic Manipulative Therapy Richmond MI
At Osteopathic Health Care Associates, we're proud to give our remarkable osteopathic doctors the opportunity to use Osteopathic Manipulative Therapy to help patients in Richmond, MI, find the pain relief they deserve. Only a 30-minute drive from the Osteopathic Health Care Associates office in Utica, the booming city of Richmond is known for its beautiful parks and unique opportunities. Split between Macomb County and St. Clair County bordering Richmond and Lenox townships, the city of Richmond is home to more than 5,500 residents as well as a number of fantastic destinations for families and individuals of all ages and interests such as the Macomb Orchard Trail and the Richmond Community Theatre. Three equally beautiful parks, the Beebe Street Memorial Park, Gierk Park, and Bailey Park, can also be found in Richmond, offering fresh air and outdoor entertainment throughout the year to anyone interested. In fact, living in Richmond is a great deal for anyone who enjoys the peace and quiet of a smaller town without sacrificing proximity to the area's best shops, attractions, restaurants, and more. To keep your body feeling great even after spending hours out on the town or on the trail in Richmond, take advantage of our Osteopathic Manipulative Therapy services at Osteopathic Health Care Associates. Trust us. We're confident that once you try Osteopathic Manipulative Therapy, you won't go back to any other treatment every again.
If you are looking for osteopathic manipulative therapy Richmond MI, call 586.221.2791 or fill out the schedule an appointment form in the sidebar or below to learn more about Osteopathic Manipulative Therapy and how it can help you:
Schedule an Appointment
Fill out the form below for a call back from one of our office staff to schedule your appointment. If you need a same day appointment, please give us a call at 586.221.2791.