Are you looking for a sports medicine doctor Washington Township MI?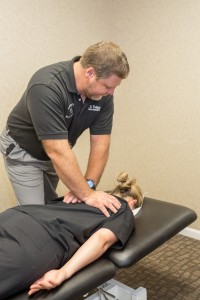 When it comes to your favorite sports or recreational activities, no matter what kind of game you're playing, there are numerous ways to potentially injure or otherwise seriously hurt yourself. Substantial damage to certain parts of your body can cause permanent disabilities, and at best, you are forced to sit out the rest of the season on the bench. Back or shoulder discomfort from a painful swing on the golf course, or a hard days work on a local farm or orchard can leave you in serious pain and worry at the end of the day. At Osteopathic Health Care Associates, we acknowledge the person behind the pain and aim to provide the best sports medicine doctors to help you get back to your old self in as little time as possible. We specialize in Osteopathic Manipulative Therapy, and our competent osteopathic physicians, Dr. Shane Patterson, and Dr. Ryan Christensen, trained tirelessly to learn and gain the necessary experience to effectively treat an abundance of injuries and conditions without relying on dangerous medications or operations.
Osteopathic Manipulative Therapy is a method that relies on touch to improve your body's ability to naturally recover at a faster pace. Incorporating professional Osteopathic Manipulative Therapy services from a qualified sports medicine doctor into your recovery plan while simultaneously training in proper physical alignment techniques can help drastically reduce your chances of future injury. The more you learn and are better able to monitor your body and remain in tune with yourself as you exercise, the less likely you are to sustain potentially life-changing problems. Osteopathic Manipulative Therapy works with you to assist your bones, tissues, and organs in collectively helping your body heal damage. Osteopathic physicians are responsible for understanding all about the body, mind, and spirit to ensure the most comprehensive healing and accurate diagnosis possible. Our prominent sports medicine doctors utilize advanced body manipulation techniques to actively decrease resistance and other restrictions in muscle movement and effectively combat pain and discomfort.
Sports Medicine Doctor Washington Township MI
Dr. Shane Patterson and the dedicated staff at Osteopathic Health Care Associates are proud to offer gentle, drug-free sports medicine to athletes and amateurs in Washington Township, Michigan. Washington Township, located in northern Macomb County, was first surveyed in 1816. The first settler, James Thorington, came to Washington Township in 1818. Washington Township has historically been a productive farming community, with a strong emphasis on orchards. In 1850, Washington Township had 119 farms and by 1874 that number had grown to 196. Beginning in the 1950's, much of the farmland has been sold and converted to subdivisions. The current Washington Township is 36 square miles: 26 Mile Road to 32 Mile Road and from Dequindre to Hayes (Powell) Roads. Perhaps your ideal adventures consist of sports like golf, baseball, basketball, football and more, or maybe your thrills are gained from outdoor recreation like hiking the trails or swimming in lakes. For some, injuries come from long days spent in the fields of local farms or orchards, but no matter who you are or how you hurt yourself, we are here for you.
If you are looking for a sports medicine doctor Washington Township MI, call 586.221.2791 or fill out the schedule an appointment form in the sidebar or below to learn more about Osteopathic Manipulative Therapy and how it can help you:
Schedule an Appointment
Fill out the form below for a call back from one of our office staff to schedule your appointment. If you need a same day appointment, please give us a call at 586.221.2791.