Are you looking for a sports medicine doctor Utica MI?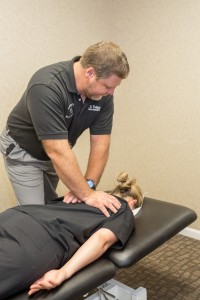 Dr. Shane Patterson is a board-certified physician, who adheres to the osteopathic philosophy of treating the whole patient through a holistic approach.   As a sports medicine doctor, Dr. Patterson and the team at Osteopathic Health Care Associates see patients of all ages, from all walks of life.  When you are injured, seeing an osteopathic sports medicine doctor gives you the advantage of being treated by a doctor who understands the relationship between the joints, muscles, and connective tissues of your musculoskeletal system.  In keeping with his specialized training, Dr. Patterson conducts an extensive, hands-on examination using palpation to diagnose irregularities in your musculoskeletal system caused by strains and injuries.  With  Dr. Shane Patterson, you will gain a deeper relationship with your doctor—one who will take the time to listen to you and treat the root of your pain or injury.  As an added benefit, Dr. Patterson is able to relieve discomfort for most patients within three visits, all without drugs or surgery.
Sports Medicine Doctor Utica MI
Dr. Shane Patterson is pleased to provide care as a sports medicine doctor in the city of Utica, Michigan.  The city of Utica has had several names, dating back to its original establishment as a settlement when the first cabin was built in 1817.  As the settlement grew, it came to be called McDougalville, Hog Hollow and Harlow.  Utica is small, but its 4,700 residents enjoy the best of small town living on the doorstep of Metro Detroit. Despite its size, Utica, Michigan, is home to  locally famous restaurants and a variety of family-friendly destinations for fun and games.   The city of Utica encourages residents to get outdoors by partnering with local communities to share parks and recreation facilities.  Whether you play on a recreation league softball team, you are an avid runner or fitness enthusiast, or you rolled your ankle in the yard playing with the dog, you'll heal faster and avoid drugs and surgery by seeking the treatment of Dr. Shane Patterson at Osteopathic Health Care Associates.
If you are looking for a sports medicine doctor Utica MI, call 586.221.2791 or fill out the schedule an appointment form in the sidebar or below to learn more about Osteopathic Manipulative Therapy and how it can help you:
Schedule an Appointment
Fill out the form below for a call back from one of our office staff to schedule your appointment. If you need a same day appointment, please give us a call at 586.221.2791.