Are you looking for a sports medicine doctor Romeo MI?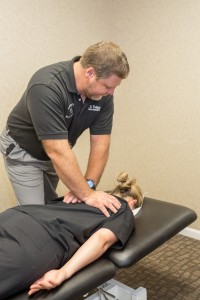 As a sports medicine doctor at Osteopathic Health Care Associates, Dr. Shane Patterson is able to provide fast, drug-free relief for sprains, strains, aches, and soreness for every member of your family.  Whether your injury occurred sliding into home plate, or you slid on a plastic toy in the kitchen, Dr. Patterson can help.  Integrating proven medical treatments with hands-on manipulation, Dr. Patterson works to provide fast pain relief and improve the overall health of his patients.  Dr. Patterson has been trained to see each patient as a complete being, with physiological systems that are interdependent and interconnected.  Understanding how our musculoskeletal system affects nearby organs and muscles enables Dr. Patterson to use palpation to conduct an extensive examination that identifies abnormalities that can affect function, and gently and effectively restore balance and comfortable movement.
Sports Medicine Doctor Romeo MI
Dr. Shane Patterson is proud to offer his expertise as a sports medicine doctor to the historic village of Romeo, Michigan. This tiny village is nestled in among the orchards and horse farms of the urban fringe of Metro Detroit.  Romeo is a favorite among families who work in Detroit but still crave the feeling of living in a small home town.   The famous Romeo Peach Festival takes place each Labor Day weekend and has drawn visitors from all over the state since 1931.  Tillson Street is the place to be on Halloween each year in Romeo.  Thousands come to trick-or-treat and see the elaborate decorations that often include stages.  On February 14 each year, the post office in Romeo, Michigan offers a dual postmark with the community in Juliette, Georgia in a tribute to the William Shakespeare play "Romeo and Juliette," and to honor Valentine's Day.   Don't let a sports injury or chronic pain keep you from enjoying all that Romeo has to offer.
If you are looking for a sports medicine doctor Romeo MI, call 586.221.2791 or fill out the schedule an appointment form in the sidebar or below to learn more about Osteopathic Manipulative Therapy and how it can help you:
Schedule an Appointment
Fill out the form below for a call back from one of our office staff to schedule your appointment. If you need a same day appointment, please give us a call at 586.221.2791.