Are you looking for a sports medicine doctor Rochester MI?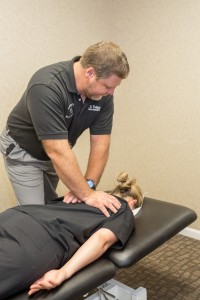 For many athletes, the warm feeling of their blood pumping or the air expanding and contracting within their lungs during physical fitness and sports is what truly makes them feel alive and free. Exercise can have so many varying benefits including maintaining a healthy weight, massive energy boosts, tons of feel good hormones, and more. Whether you're a professional, or making a recent jump from couch to cardio, staying safe during any kind of physical fitness should be your number one priority. Injuries can easily become lasting problems for those who lack the knowledge to treat themselves properly. At Osteopathic Health Care Associates, we urge anyone who may have sustained a fitness-related injury to seek advice from a sports medicine doctor immediately to avoid potentially life-long consequences. Our highly-trained sports medicine doctors specialize in Osteopathic Manipulative Therapy, and led by our own esteemed osteopathic physician Dr. Shane Patterson, we utilize varying techniques to effectively treat a variety of injuries and ailments without the use of hazardous medications or procedures.
Our qualified sports medicine doctors utilize not only our most advanced Osteopathic Manipulative Therapy techniques, but also work to help train you in correct physical alignment and other techniques that can significantly reduce the odds of you sustaining a future injury. Osteopathic Manipulative Therapy relies on physical manipulation to stimulate your body's natural abilities to recover quickly. By choosing to incorporate Osteopathic Manipulative Therapy into your recovery plan, you can spend valuable one on one time with a well-regarded sports medicine doctor and learn more about your body as you heal to help better prepare yourself for your fitness future. Osteopathic physicians have a deep understanding of all things body, mind, and spirit so you can rest easy knowing that your care is in their capable hands.
Sports Medicine Doctor Rochester MI
Dr. Shane Patterson and the dedicated staff at Osteopathic Health Care Associates are proud to offer gentle, drug-free sports medicine to athletes and amateurs in Rochester, Michigan. Just shy of thirty miles north of Detroit, Rochester is a welcoming place that focuses primarily on courtesy and attention to detail. By providing individualized consideration for every citizen concern, remaining accountable, and spreading the communal spirit, Rochester has proven itself to be a remarkable place to live, work, and play.
If you are looking for a sports medicine doctor Rochester MI, call 586.221.2791 or fill out the schedule an appointment form in the sidebar or below to learn more about Osteopathic Manipulative Therapy and how it can help you:
Schedule an Appointment
Fill out the form below for a call back from one of our office staff to schedule your appointment. If you need a same day appointment, please give us a call at 586.221.2791.