Are you looking for a sports medicine doctor Rochester Hills MI?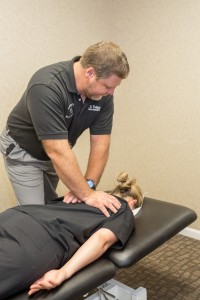 You don't need to be a seasoned athlete to benefit from seeing a sports medicine doctor.  Whether you are running on the field of competition or running in the yard after your dog, when you twist your ankle, you've got a sports injury.  Dr. Shane Patterson is a board certified, osteopathic physician who provides comprehensive sports medicine for athletes and active individuals of all ages.   Osteopathic physicians receive special training using the hands to diagnose and treat injuries and dysfunction in our bodies without drugs or surgery.  Osteopathic Manipulative Therapy (OMT) is a form of physical medicine that treats the underlying cause of the pain, rather than simply treating the area of discomfort.  In examining the musculoskeletal system,  the bones, joints, muscles, and  the related neural, vascular and lymphatic structures, Dr. Patterson can identify which structures are affected, and restore proper alignment.  Using a series of techniques that include stretching, gentle pressure, and massage, Dr. Patterson is able to provide complete relief for most patients quickly– in as few as three visits.  By maintaining proper function and alignment, active bodies are less prone to injury, and enjoy enhanced strength and flexibility on and off the playing field.  In addition to drug-free pain relief, Osteopathic Health Care Associates offers nutritional guidance and exercise instruction to help you reach your health and fitness goals.   Bounce back faster from illness, prevent injury, enhance performance, and enjoy better overall health with sports medicine care form Dr. Shane Patterson.
Sports Medicine Doctor Rochester Hills MI
Dr. Shane Patterson and the caring staff at Osteopathic Health Care Associates proudly serve the community of Rochester Hills, Michigan.  Rochester Hills is located in Oakland County, just on the northern outskirts of Metro Detroit.  This vibrant city keeps active through a full range of exercise, sports, and recreation programs hosted by the local parks department. Rochester Hills residents can join their neighbors for dance classes,  baseball and softball leagues, golf outings, and a charity 5K run/walk.  Youth sports lessons are offered for basketball, baseball, tennis, soccer, and fencing, so the whole family can active and have fun.  If you are looking for a sports medicine doctor in Rochester Hills to get you back in the game, count on Dr. Shane Patterson at Osteopathic Health Care Associates.
If you are looking for a sports medicine doctor Rochester Hills MI, call 586.221.2791 or fill out the schedule an appointment form in the sidebar or below to learn more about Osteopathic Manipulative Therapy and how it can help you:
Schedule an Appointment
Fill out the form below for a call back from one of our office staff to schedule your appointment. If you need a same day appointment, please give us a call at 586.221.2791.