Are you looking for a sports medicine doctor New Haven MI?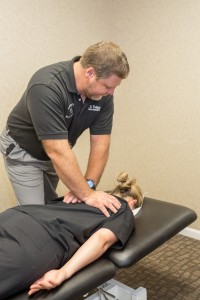 Injuries can happen in every sport.  You don't have to go full-contact in football or rugby to roll an ankle, develop tendinitis, or tennis elbow.  Active adults and athletes of all ages can experience fewer injuries, faster healing, and improved physical performance from receiving the care of a sports medicine doctor.  Dr. Shane Patterson is a board certified physician who provides sports medicine care through his innovative practice, Osteopathic Health Care Associates.  Having a sports medicine doctor who adheres to the osteopathic philosophy gives you the benefit of having a physician who listens to you and understands how the bones, joints, muscles, and connective tissue of the musculoskeletal system work together and are independent for optimum health and comfortable movement.  When you are injured, and physical structures are out of alignment, compensating for pain in movement and prolonged inflammation lead to further injury and disease.  Dr. Shane Patterson uses Osteopathic Manipulative Therapy (OMT) to diagnose and treat your pain at its root cause—usually in three visits or less. OMT is a hands-on form of medicine that uses a series of special techniques and palpation to diagnose and treat your pain or injury without drugs or surgery. Experience total health care with sports medicine from Osteopathic Health Care Associates.
Sports Medicine Doctor New Haven MI
Dr. Shane Patterson provides care as a sports medicine doctor in the village of New Haven, Michigan.  The tiny village of New Haven sits just north of Lake St. Clair in Lenox Township.  Seniors in New Haven stay active with community trips to Frankenmuth and other popular tourist destinations.  New Haven keeps residents entertained with community programs like music in the park, and bingo.  As we grow older, exercise is important to maintain strength and prevent falls and injury.  Active seniors can see a  sports medicine doctor for help in gaining needed strength through exercise and education, getting them moving comfortably and safely.
If you are looking for a sports medicine doctor New Haven MI, call 586.221.2791 or fill out the schedule an appointment form in the sidebar or below to learn more about Osteopathic Manipulative Therapy and how it can help you:
Schedule an Appointment
Fill out the form below for a call back from one of our office staff to schedule your appointment. If you need a same day appointment, please give us a call at 586.221.2791.