Are you looking for a sports medicine doctor Mount Clemens MI?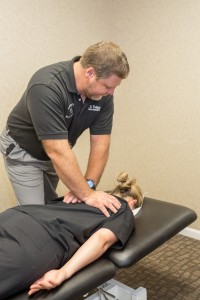 No matter what skill level of athleticism you participate in, everyone can benefit from a sports medicine doctor. Beginners, and others new to sports or exercise, may suffer from muscle strains and injuries related to poor form, insufficient physical conditioning, neglecting your warm-ups, or even just being out of shape or out of practice. Athletes at a professional or intermediate level may suffer more serious stress and injuries related to overuse from frequent practice, games, and events.
Choosing a professional physician who understands the intricate systems and structures of your body can mean the difference between a hasty recovery and a permanent injury. In order to truly prevent future injuries, you have to trust in a healthcare provider who has the experience specializing in sports medicine and other unique methods to get to the root of the problem. At Osteopathic Health Care Associates, Dr. Shane Patterson uses Osteopathic Manipulative Therapy (OMT) to treat a variety of injuries and conditions. No matter how many different treatments and medicines you may have tried in the past, Dr. Patterson is here to help you find the right way. As a Board Certified Internist and Osteopathic Physician, Dr. Shane Patterson knows everything there is to know about how to treat your injury and get you back in the game as quickly as possible by healing your injuries instead of covering them up with medication. OMT uses a series of manual techniques to treat the musculoskeletal malfunctions that are affecting your performance and causing pain.
Sports Medicine Doctor Mount Clemens MI
Dr. Shane Patterson and the dedicated staff at Osteopathic Health Care Associates are proud to offer gentle, drug-free sports medicine to athletes and amateurs in Mount Clemens, Michigan. First surveyed back in 1795, Mount Clemens has enjoyed over 200 years of progression. From the very first distillery built by Clemens and Brookes that helped settle the land, to the 100-year long booming bath industry that took place between 1873-1974, Mount Clemens has seen its share of fame and recognition. Visit The Olympia Salon and Spa today to enjoy one of Mount Clemens' famous mineral baths, and get a taste of the old days. Or, if you are looking for effective, patient-centered sports medicine in Mount Clemens, count on Dr. Shane Patterson at Osteopathic Health Care Associates.
If you are looking for a sports medicine doctor Mount Clemens MI, call 586.221.2791 or fill out the schedule an appointment form in the sidebar or below to learn more about Osteopathic Manipulative Therapy and how it can help you:
Schedule an Appointment
Fill out the form below for a call back from one of our office staff to schedule your appointment. If you need a same day appointment, please give us a call at 586.221.2791.