Are you looking for a sports medicine doctor Macomb MI?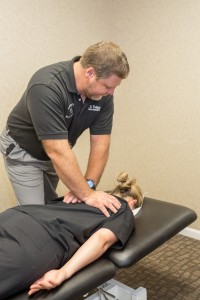 At Osteopathic Health Care Associates, Dr. Shane Patterson uses his years as an osteopathic physician to provide fast, effective relief for athletes of all levels.  In keeping with his specialized training, Dr. Patterson conducts an extensive, hands-on examination using palpation to diagnose irregularities in your musculoskeletal system caused by strains and injuries.   This abnormal function affects your body's performance on and off the court–often leading to overcompensation for a painful knee or hip that strains other areas of your body and causes further damage.  Through the use of Osteopathic Manipulative Therapy, Dr. Patterson offers gentle, drug-free relief Osteopathic Manipulative Therapy (OMT) involves a series of techniques that uses gentle pressure, stretching, and resistance to restore pain-free movement and restore neuromuscular function.  Osteopathic physicians are trained to see their patients as a complete being, and include patient education and nutritional therapies as an essential part of healing.  In treating the entire patient and working to maintain optimal health,  athletes and active individuals incur fewer injuries and enjoy improved physical performance.
Osteopathic Manipulative Therapy has been shown to be an effective treatment for repetitive use injuries and is safe enough to be used to treat athletes of any age, from youth soccer players and collegiate competitors to senior league golfers.  In as few as three visits, Dr. Shane Patterson and the knowledgeable staff at Osteopathic Health Care Associates can restore pain-free movement, increase your range-of-motion and enhance your performance.
Sports Medicine Doctor Macomb MI
Dr. Patterson proudly offers his services as a sports medicine doctor in Macomb, Michigan and neighboring communities throughout lower Michigan.  Macomb is a northern suburb of Detroit that promotes physical fitness in its residents through an extensive series of recreational and sports programs offered at the Macomb Township Recreation Center. The center features a fitness center, two gymnasiums for team sports, aerobics facilities, and an activity pool. Don't let pain or injury keep you on the bench.  Let Dr. Shane Patterson at Osteopathic Health Care Associates get you back in competition form in three visits or less.
If you are looking for a sports medicine doctor Macomb MI, call 586.221.2791 or fill out the schedule an appointment form in the sidebar or below to learn more about Osteopathic Manipulative Therapy and how it can help you:
Schedule an Appointment
Fill out the form below for a call back from one of our office staff to schedule your appointment. If you need a same day appointment, please give us a call at 586.221.2791.