Are you looking for a sports medicine doctor Harrison Township MI?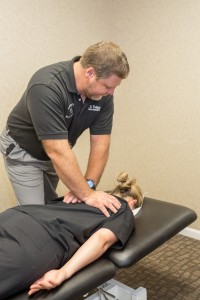 Dr. Shane Patterson is a board certified Internist and an adherent to the Osteopathic philosophy, who uses his specialized training to provide comprehensive healthcare and sports medicine services to patients of all ages.  Sports injuries can occur anytime we are in motion.  Whether you roll your ankle carrying laundry down a set of stairs, or you slid into home plate and injured your shoulder, you have a sports injury.  When you come to Osteopathic Health Care Associates for your injury, Dr. Shane Patterson will conduct a thorough palpatory examination to determine the parts of your body involved with your injury, and the root cause of your pain.  Osteopathic Manipulative Therapy (OMT) is a hands-on form of natural medicine that involves the use of gentle manipulations, stretching, resistance and gentle pressure to identify and eliminate pressure on joints, and relieve the strain on muscles.  OMT is taught to all osteopathic physicians, and is an essential part of treating each patient mentally, spiritually, and physically. Through the use of OMT, nutritional therapies, and patient education, Dr. Patterson can identify and relieve or eliminate your pain in as little as three visits.  OMT has been shown to be beneficial to athletes by maintaining proper balance and function, preventing injury, and enhancing performance.
Sports Medicine Doctor Harrison Township MI
In founding Osteopathic Health Care Associates, Dr. Patterson fulfilled his dream of establishing a practice where he can take the time to listen to his patients,  treat the whole person, and help patients reach their health and fitness goals.  Dr. Patterson is pleased to offer his services as a sports medicine doctor for patients in Harrison Township, Michigan.  This waterfront community is home to the Lake St. Clair Metropark, where visitors can enjoy hiking trails, a nature center, beaches, playgrounds, pools, picnic areas, and docks available to visitors who enter the park by boat.  Residents of Harrison Township have embraced boating so fully, that the township  was nicknamed "Boat Town U.S.A." due to the large numbers of marinas and boat traffic.  If a nagging injury is keeping you from enjoying all that Harrison Township has to offer, count on Osteopathic Health Care Associates.
If you are looking for a sports medicine doctor Harrison Township MI, call 586.221.2791 or fill out the schedule an appointment form in the sidebar or below to learn more about Osteopathic Manipulative Therapy and how it can help you:
Schedule an Appointment
Fill out the form below for a call back from one of our office staff to schedule your appointment. If you need a same day appointment, please give us a call at 586.221.2791.