Are you looking for a sports medicine doctor Fraser MI?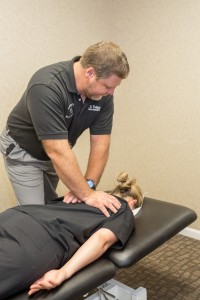 Dr. Shane Patterson provides care as a sports medicine doctor through his innovative practice, Osteopathic Health Care Associates.  Our holistic, patient-centered approach is less invasive than traditional orthopedic sports medicine treatment, and more personal than seeking care in an emergency room.  Dr. Patterson is a board-certified internal medicine physician who adheres to the osteopathic philosophy and employs Osteopathic Manipulative Therapy (OMT) to treat pain and injuries in athletes of all ages. OMT is a hands-on form of manual medicine that utilizes a series of specialized techniques to correct abnormal pressures and function to your body. Osteopathic Manipulative Therapy has been shown to be effective in maintaining flexibility, improving strength and treating repetitive use injuries.  When you come for treatment at Osteopathic Health Care Associates, Dr. Shane Patterson will conduct a thorough palpatory examination to determine which parts of your body are involved with your injury, and find the root cause of your pain.  We specialize in drug-free pain management, using the latest research and cutting-edge techniques to help increase your strength, extend your range-of-motion, and optimize your body's natural healing ability.  Osteopathic sports medicine treatment brings you fast, natural pain relief and protects your body from future injury by helping your bones, muscles, and joints to work together smoothly and safely.  As an added benefit, our patients typically experience relief within just three visits.  You deserve attentive, effective sports medicine.  Come to Osteopathic Health Care Associates and experience the difference.
Sports Medicine Doctor Fraser MI
Dr. Shane Patterson of Osteopathic Healthcare Medicine, serves the resident of Fraser, Michigan, as a sports medicine doctor.  The city of Fraser hosts and adult five-on-five basketball league, co-ed softball, flag football, and kickball programs. Kids can get in the game flag football, and make friends and share new experiences in the summer field trip program.  Being just five miles from Lake St. Clair and 15 miles from downtown Detroit, denizens of Fraser have the best of  the natural beauty and city living at their doorsteps.  You don't have to be starter on your team to benefit from the care of a sports medicine doctor.
If you are looking for a sports medicine doctor Fraser MI, call 586.221.2791 or fill out the schedule an appointment form in the sidebar or below to learn more about Osteopathic Manipulative Therapy and how it can help you:
Schedule an Appointment
Fill out the form below for a call back from one of our office staff to schedule your appointment. If you need a same day appointment, please give us a call at 586.221.2791.