Are you looking for a sports medicine doctor Chesterfield MI?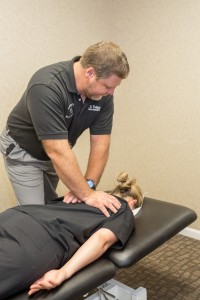 Dr. Shane Patterson is a Board Certified osteopathic physician who practices Osteopathic Manipulative Therapy (OMT) to treat pain, tenderness, and impaired motion in athletes from little leaguers to the players in the senior leagues.  OMT uses hands-on techniques, including gentle pressure, stretching, and resistance to restore proper alignment and pain-free movement. Through the use of palpation and OMT Dr. Patterson examines, diagnoses, and treats the underlying cause of your pain.  As an osteopathic physician, Dr. Patterson includes patient education and nutritional therapies as an essential part of healing, and  has been trained to see how our joints, muscles, bones and other physiological systems work together and depend upon each other for proper function.  Following an injury, compensation for instability or pain in the way you move can lead to greater dysfunction and pain, and delay recovery.
When you seek sports medicine treatment from an osteopathic physician, you get the benefit of fewer injuries, extended range-of-motion, and improved physical performance.  For relief from Iliotibial band friction, tennis elbow, rotator cuff injury, carpal tunnel syndrome, back, knee or hip pain, strains, shin splints, golf elbow, sprains, and shoulder pain, see Dr. Shane Patterson at Osteopathic Health Care Associates.
Sports Medicine Doctor Chesterfield MI
Dr. Shane Patterson is pleased to provide services as an effective, drug-free sports medicine doctor in Chesterfield, Michigan.  Tucked in on the northwest shores of Lake St. Clair, Chesterfield is a suburb of Metro Detroit with a young population and a wealth of sports and fitness opportunities.  Residents can take karate lessons, dance classes, fitness classes, and participate in sports leagues for every age. Don't let chronic pain and injury keep you from enjoying all that Chesterfield has to offer.  If you are looking for a sports medicine doctor in Chesterfield who will take the time to listen to you, treat you as a whole individual, and get you back in the game without drugs or surgery, choose Dr. Shane Patterson at Osteopathic Health Care Associates.
If you are looking for a sports medicine doctor Chesterfield MI, call 586.221.2791 or fill out the schedule an appointment form in the sidebar or below to learn more about Osteopathic Manipulative Therapy and how it can help you:
Schedule an Appointment
Fill out the form below for a call back from one of our office staff to schedule your appointment. If you need a same day appointment, please give us a call at 586.221.2791.