Are you looking for a sports medicine doctor Bruce Township MI?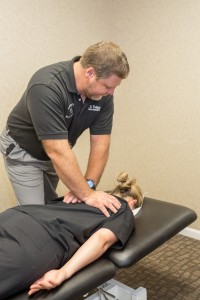 No matter what type of sport you're into, there are numerous ways to hurt your body that can prevent you from being able to participate in your favorite game. At Osteopathic Health Care Associates we see the person behind the pain, and work to provide lasting relief that has you back on your team in no time. Sports are your life, but sports medicine is ours. We aim to transform your body into something better than before, sending you back out with a new strength and a better understanding of your health. Specializing in the use of Osteopathic Manipulative Therapy (OMT), Dr. Shane Patterson is an Osteopathic Physician who has trained hard to be able to treat numerous types of injuries and conditions without risky drugs or surgery. At Osteopathic Health Care Associates, we're the all-stars of sports medicine.
Osteopathic Manipulative Therapy works through the use of touch to give your body a much needed recovery boost, while also training you in proper physical alignment that can help prevent future injuries. Our bodies are so complex and wonderful, able to naturally heal all types of illnesses and other conditions. The use of Osteopathic Manipulative Therapy works along side your body to aid your bones, tissues, and organs in working together to repair damage. Osteopathic physicians spend years learning the intricate differences within the body, mind, and spirit. By including all these aspects of the human body we have a better chance at finding an accurate diagnosis, greatly reducing recovery time. Injuries can easily spread and cause more damage to other areas of the body if left unchecked. These serious problems can cause significant delays in healing and even lead to more life-threatening diseases. Osteopathic physicians utilize advanced stretching and body manipulation techniques to reduce resistance and treat pain and restriction in movement.
Sports Medicine Doctor Bruce Township MI
Dr. Shane Patterson and the dedicated staff at Osteopathic Health Care Associates are proud to offer gentle, drug-free sports medicine to athletes and amateurs in Bruce Township, Michigan. Once rich with aborigines, Bruce Township is now just a largely rural township. Home of the Ford Motor Company Proving Grounds, Bruce Township now offers residents a little small town charm with plenty of amenities in surrounding cities. If you are looking for effective, patient-centered sports medicine in Bruce Township, count on Dr. Shane Patterson at Osteopathic Health Care Associates.
If you are looking for a sports medicine doctor Bruce Township MI, call 586.221.2791 or fill out the schedule an appointment form in the sidebar or below to learn more about Osteopathic Manipulative Therapy and how it can help you:
Schedule an Appointment
Fill out the form below for a call back from one of our office staff to schedule your appointment. If you need a same day appointment, please give us a call at 586.221.2791.