Are you looking for a sports medicine doctor Armada MI?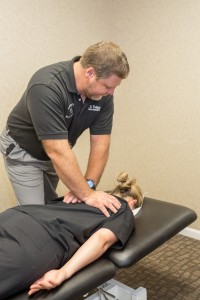 At Osteopathic Health Care Associates, Dr. Shane Patterson uses skills he studied while becoming a physician to help construction workers, farmers and horseback riders of every skill level achieve and maintain healthy, pain-free movement.  A sports medicine doctor can often treat injuries faster and without drugs and surgery that are typical in orthopedic treatment.  When you have a physically demanding or repetitive job, you can incur injuries that cause chronic pain. Athletes and those with active hobbies are also at increased risk, and would benefit from seeing a sports medicine doctor.  Riders often run the risk of injury because they tend to place more focus on improving the skill and physical conditioning of the horse, while neglecting their own conditioning programs.  Having a sports medicine doctor who understands how your musculoskeletal system functions helps you develop strength more evenly, and helps your body recover faster.  Your sports medicine doctor can teach you how to use workouts to develop strength and flexibility that will improve performance and protect you from injury.  Strengthen your core to improve seat stability, and use conditioning to strengthen muscles that help keep your knees in place.  At Osteopathic Health Care Associates, we specialize in drug-free pain relief and treatment, making sports medicine doctor, Shane Patterson, an ideal choice for younger athletes.
Sports Medicine Doctor Armada MI
Dr. Shane Patterson is an ideal sports medicine doctor for the equestrian and agricultural community in Armada, Michigan.  Armada may be a small village, but it has the will of a giant.  In 1915, villagers in Armada persuaded industrialist Andrew Carnegie to donate $8,000 for a library that is still in use today.  People in Armada appreciate the beauty of their home, and express that love through their dedication to education and hard work.  As the saying goes, Armada has more horse farms and equestrian centers "than you can shake a stick at," and the more you ride, the more likely you are to take a few falls.
If you are looking for a sports medicine doctor Armada MI, call 586.221.2791 or fill out the schedule an appointment form in the sidebar or below to learn more about Osteopathic Manipulative Therapy and how it can help you:
Schedule an Appointment
Fill out the form below for a call back from one of our office staff to schedule your appointment. If you need a same day appointment, please give us a call at 586.221.2791.