Are you looking for a pain management doctor St. Clair Shores MI?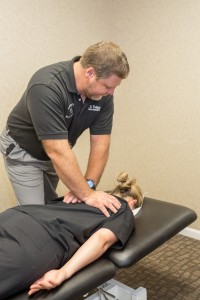 At Osteopathic Health Care Associates, our primary focus is to provide each and every one of our patients with a safe and comfortable environment that promotes faster healing and encouragement. Any patient that enters our facility is treated with the utmost respect and consideration as we thoroughly examine them for various injuries or ailments, this allows us to get a comprehensive understanding of their individual mind, body, and spirit and formulate the most effective customized treatment. We keep a close eye on every patient as we teach them more about pain management, oversee their progress, and help them aspire to specific goals that our esteemed pain management specialists think would be beneficial. With the use of advanced Osteopathic Manipulation Therapy (OMT) techniques, our pain management professionals can effectively identify and treat a variety of injuries and disorders that can interfere with a person's daily life.
No matter your current fitness skill level, incorporating a few specific daily exercises that utilize stretching and movement can significantly reduce chronic pain as well as your risk of sustaining a serious injury. To effectively practice safe exercise, you have to understand at least a little bit about the basics of your body, and how it interacts with movement and exercise. Our esteemed pain management doctors have done the hard part for you; spending years researching different ways to improve patient health and well-being. This hard work is what led us to OMT. Patients who have experienced our unique and effective treatment method have reported significantly reduced discomfort and stiffness as well as an increased ability to manage pain. The primary goal of our board-certified physician of internal medicine, Dr. Shane Patterson, remains the same. His dedication to eliminating chronic pain in patients without relying on risky drugs or operations is what makes Osteopathic Health Care Associates a truly unique and remarkable place.
Pain Management Doctor St. Clair Shores MI
Dr. Shane Patterson and the dedicated staff at Osteopathic Health Care Associates are proud to offer gentle, drug-free sports medicine to residents of St. Clair Shores, Michigan. St. Clair Shores is an active community that is known for organizing a variety of popular events. As members of the Miss America Organization, St. Clair Shores is home to one of the longest running local pageants, and even provides numerous scholarships to young women of the community. For the boys, St. Clair Shores boasts a stellar hockey association that features more state championships than any other rink in the state. With so much activity and action, especially for the youth, it's important to stay safe and healthy. When injuries happen, let Osteopathic Health Care Associates help you find a path to greater health, comfort and well-being.
If you are looking for a pain management doctor St. Clair Shores MI, call 586.221.2791 or fill out the schedule an appointment form in the sidebar or below to learn more about Osteopathic Manipulative Therapy and how it can help you:
Schedule an Appointment
Fill out the form below for a call back from one of our office staff to schedule your appointment. If you need a same day appointment, please give us a call at 586.221.2791.