Are you looking for a pain management doctor Romeo MI?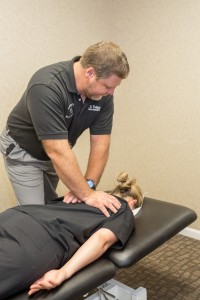 At Osteopathic Health Care Associates, we take a holistic, patient-centered approach to providing preventative care and effective long-term pain management. Dr. Shane Patterson is an independent, board certified osteopathic physician of internal medicine who uses osteopathic philosophy and therapies to treat athletes, teens, expectant mothers, construction workers or anyone who needs proactive, comprehensive health care and pain relief.  Osteopathic physicians learn a series of hands-on techniques that use gentle resistance, palpation and stretching to diagnose and treat diseases, dysfunctions and injuries that affect the muscles, joints and tissues of the musculoskeletal system. A palpatory exam using the hands is conducted over the entire body, looking for tenderness, pain or restriction in motion. When abnormal function is detected, doctors who practice OMT use these special techniques to realign joints, ease painful restriction and restore healthful function.
Through the use of Osteopathic Manipulative Treatment, Dr. Patterson and our staff provide safe and effective relief for chronic pain resulting from failed back surgeries and knee or hip replacements, sciatica chronic back pain, neck pain, joint pain syndromes, fibromyalgia, traumatic injury, overuse syndrome, carpal tunnel syndrome, costochondritis, extremity pain, TMJ syndrome, migraines, tension headaches, or musculoskeletal pain in pregnancy. Our pain management therapies are successful at providing long-term relief because we treat you as a complete being rather than a collection of symptoms. Addressing dysfunction throughout your entire body and allowing your body to heal itself through the restoration of proper function means you get natural, drug-free relief.
Pain Management Doctor Romeo MI
Dr. Patterson and our staff at Osteopathic Health Care Associates are proud to serve and heal the ailing in Romeo and across Michigan. Romeo, Michigan is a charming village of farms, shops and orchards that is waiting just north of the metropolitan Detroit area. Romeo is a great place to get away from the noise of the city and relax over a meal at a quaint diner or cafe, or wander through a gallery or antique store. Residents of Romeo turn to pain management specialist Dr. Shane Patterson for gentle, effective drug-free pain relief. Let us be your partner in healing.
If you are looking for a pain management doctor Romeo MI, call 586.221.2791 or fill out the schedule an appointment form in the sidebar or below to learn more about Osteopathic Manipulative Therapy and how it can help you:
Schedule an Appointment
Fill out the form below for a call back from one of our office staff to schedule your appointment. If you need a same day appointment, please give us a call at 586.221.2791.