Are you looking for a pain management doctor Rochester Hills MI?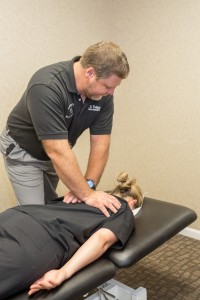 Osteopathic Health Care Associates is a pain management doctor who specializes in manipulative techniques that offer natural, holistic relief from migraines, low back pain, sciatica, neck pain, osteoarthritis, fibromyalgia, tension headaches, carpal tunnel syndrome, pinched nerves and degenerative disc disease. Our board-certified Internal Medicine physician is specially trained in a series of manipulative techniques that use gentle pressure, stretching and resistance known as Osteopathic Manipulation Therapy (OMT).  This series of manipulations is used to detect issues with your musculoskeletal system, which is comprised of your spine, muscles, bones, joints, nerves, and connective tissue. OMT works to realign your spine, rebalance muscles and restore proper function to joints and connective tissues. Alleviating  the additional strain from misalignment allows your body to heal itself naturally, without addictive drugs or painful surgery, making this the healthiest pain management doctor option. When you visit our office, we will perform a complete biomechanical exam, targeting the malfunction that is causing your pain. By identifying and eliminating the underlying cause of your chronic pain, symptoms can often be completely eliminated after a short series of treatments—getting you back to work, and to pain-free living as effectively and as quickly as we can. Our patient-centered approach to health care has its roots in osteopathic medicine. Osteopathic physicians have been specially trained to see each patient as whole being, with bodily structures and physiological systems that are interconnected and interdependent. Where there is structural malfunction, the nerves that connect to vital organs are affected, causing disease. When the tissues and structures that connect these symptoms function well, the inflammation and additional strain that comes from the malfunction is eliminated. By using direct, hands-on techniques to provide care, your Doctor of Osteopathic can learn more about you, and care for you all the better.
Pain Management Doctor Rochester Hills MI
Rochester Hills, Michigan is on the northern edges of the Metro Detroit area. This vibrant suburb boasts community festivals, beautiful parks, a community garden and the Rochester Hills Museum at the Van Hoosen Farm. This working farm and homestead hosts programs for residents of all ages throughout the year. Residents of Rochester Hills value their health and their community. When chronic pain is keeping you from enjoying life, turn to Osteopathic Health Care Associates.
If you are looking for a pain management doctor Rochester Hills MI, call 586.221.2791 or fill out the schedule an appointment form in the sidebar or below to learn more about Osteopathic Manipulative Therapy and how it can help you:
Schedule an Appointment
Fill out the form below for a call back from one of our office staff to schedule your appointment. If you need a same day appointment, please give us a call at 586.221.2791.