Are you looking for a pain management doctor Richmond MI?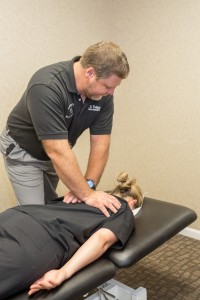 At Osteopathic Health Care Associates, we offer an individualized, holistic approach to healthcare. Using medical techniques that are in keeping with the osteopathic philosophy and approach, we perform a complete biomechanical examination and bring drug-free relief through a series of techniques that involve gentle pressure, stretching and resistance. This series of techniques is learned by osteopathic physicians, and is known as Osteopathic Manipulative Therapy (OMT). OMT has been shown to be effective in treating chronic pain because the manipulative techniques employed in the practice rebalance muscles and realign joints, alleviating strain and allowing the body to heal itself naturally. Athletes benefit from OMT through faster healing from injury, and improved balance and range-of-motion that can prevent future injury and enhance performance. Osteopathic Manipulative Therapy can also offer relief from sciatica chronic back pain, neck pain, joint pain syndromes, fibromyalgia, traumatic injury, overuse syndrome, carpal tunnel syndrome, costochondritis, extremity pain, TMJ syndrome, migraines, tension headaches, or musculoskeletal pain in pregnancy. When traditional treatments have failed to provide relief, you can find hope with Osteopathic Health Care Associates.
Pain Management Doctor Richmond MI
Dr. Shane Patterson provides pain management services to residents of Richmond, Michigan. Richmond is a close-knit community on the border between Macomb County and St. Clair County.  Despite being considered a northern member of the municipalities that comprise Metro Detroit, Richmond is far-removed from the fast-paced life lived in larger cities. The city maintains a beautiful system of parks that provide facilities for the many sports programs available to young athletes in the community.  The Richmond Community Theatre is listed on the National Register of Historic Places, and serves as a beacon for the arts here.  Each year, the city hosts the "Richmond Good Old Days Festival" that features musical entertainment, a parade, fireworks and a demolition derby.  You don't have to compete in a demolition derby to experience chronic pain. If you or someone you love has been living with chronic pain, consider Dr. Shane Patterson at Osteopathic Health Care Associates today to schedule your first appointment and begin a path to greater health and comfort.
If you are looking for a pain management doctor Richmond MI, call 586.221.2791 or fill out the schedule an appointment form in the sidebar or below to learn more about Osteopathic Manipulative Therapy and how it can help you:
Schedule an Appointment
Fill out the form below for a call back from one of our office staff to schedule your appointment. If you need a same day appointment, please give us a call at 586.221.2791.