Are you looking for a pain management doctor Oakland County MI?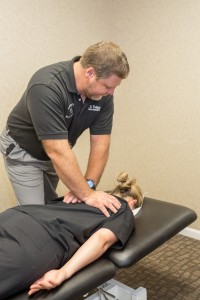 Osteopathic Health Care Associates is an independent one-stop shop for all your internal medicine needs. We offer a truly comprehensive and personalized approach to holistic medicine and treatments while maintaining a warm, friendly atmosphere for each of our patients. We understand that you are not merely a composition of physical symptoms, but rather a person with complex and important needs that are to never be ignored or dismissed. Our professional pain management doctors specialize in a method known as Osteopathic Manipulation Therapy (OMT), which utilizes a series of manual stimulation techniques to effectively diagnose, provide treatment for, and encourage the healing of various musculoskeletal injuries that can significantly affect your nerves, causing chronic pain and disease throughout your entire body. No matter what level of physical fitness you're working out at, the need for proper form and exercise safety is crucial to preventing injuries that could potentially have life-long affects. Through our most advanced hands-on techniques, we are able to provide each of our patients with necessary preventive care tips while also managing their chronic pain. We have spent years training to finally allow us to effectively relieve numerous symptoms cause by a variety of injuries and illnesses. Patients who have taken advantage of our OMT services have reportedly experienced a significant increase in relief and pain management. Our board-certified physician of internal medicine, Dr. Shane Patterson, is an expert in pain management techniques. His only consistent ambition has been to rid patients of chronic pain without the use of potentially harmful drugs or surgeries.
Pain Management Doctor Oakland County MI
Dr. Shane Patterson and the dedicated staff at Osteopathic Health Care Associates are proud to offer gentle, drug-free pain management therapies to residents of Oakland County, Michigan. Oakland County is the home of nearly a million people and is among the top ten highest income counties in the entire United States. Enjoy trails, parks, farms, lakes, shopping, and more across the Oakland County's 61 cities, townships, and villages. In the summer visit the shores of any, or all, of the local Oakland County lakes to soak up the sun (with the proper sunscreen of course), and enjoy a variety of fun and exciting recreational opportunities. Do you live in Oakland County and are you the victim of chronic pain or discomfort that has been preventing you or a loved one from being able to live the life you desire, come see us today. Let Osteopathic Health Care Associates help you find a path to greater health, comfort and well-being.
If you are looking for a pain management doctor Oakland County MI, call 586.221.2791 or fill out the schedule an appointment form in the sidebar or below to learn more about Osteopathic Manipulative Therapy and how it can help you:
Schedule an Appointment
Fill out the form below for a call back from one of our office staff to schedule your appointment. If you need a same day appointment, please give us a call at 586.221.2791.