Are you looking for a pain management doctor New Haven MI?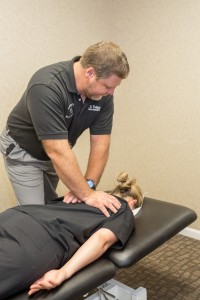 If you suffer from chronic pain, you are not alone. The National Institutes of Health report that more Americans suffer from chronic pain than diabetes, heart disease and cancer combined.  While aspirin is still the most commonly used pain reliever, it is not effective on severe or chronic pain. When stronger pain relievers are prescribed, patients are at risk of developing serious physical side effects or dangerous addictions.  Fortunately, there is a natural, powerful  treatment program for chronic pain sufferers that has shown real results and changed lives.
Osteopathic Health Care Associates is an independent, full-service Internal Medicine practice that takes a patient-centered approach to health care and pain management. Dr. Shane Patterson is a board-certified Internal Medicine physician and adherent to the Osteopathic philosophy, who uses using a series of manual techniques known as Osteopathic Manipulation Therapy (OMT) to provide comprehensive, personal care in a modern, comfortable setting.  Osteopathic physicians have been specially trained to see each patient as whole being, with bodily structures and physiological systems that are interconnected and interdependent. We specialize in using OMT to diagnose and treat the musculoskeletal malfunctions that affect the nerves that radiate through the body and to vital organs, causing chronic pain and disease. Your musculoskeletal system is composed of your spine, joints, muscles, bones, and connective tissue. By restoring alignment and function to the affected area, your body is more able to heal itself naturally, and without drugs. We work with you to create an individualized treatment plan that will improve your sense of well being and support your body's innate ability to heal itself.
Pain Management Doctor New Haven MI
Dr. Patterson and the caring staff at Osteopathic Health Care Associates are proud to serve patients in the village of New Haven, Michigan and the surrounding communities. New Haven is in eastern Macomb County and has the advantage of being close to all that Anchor Bay and Lake St. Clair have to offer, while retaining the comfort of a small-town.
If you are looking for a pain management doctor New Haven MI, call 586.221.2791 or fill out the schedule an appointment form in the sidebar or below to learn more about Osteopathic Manipulative Therapy and how it can help you:
Schedule an Appointment
Fill out the form below for a call back from one of our office staff to schedule your appointment. If you need a same day appointment, please give us a call at 586.221.2791.