Are you looking for a pain management doctor Mount Clemens MI?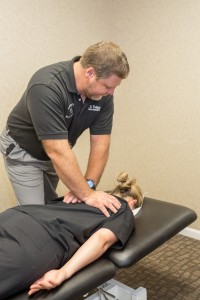 At Osteopathic Health Care Associates, we take a holistic, patient-centered approach to providing preventative care and specialize in effective long-term pain management. Dr. Shane Patterson is an independent, board certified osteopathic physician of internal medicine who adheres to the osteopathic philosophy and employs osteopathic therapies to treat patients who need proactive, comprehensive health care and real pain relief.  Osteopathic philosophy is based on the belief that all the parts of our bodies are connected and depend upon each other for proper healing and function. When there is a problem with the bones, muscles or joints, function in that area may be affected, leading to compensation and abnormal pressures that put additional strain and pressure on nearby parts of your body. Over time, this loss of normal function interferes with your body's ability to heal itself, leading to debilitating pain.
Rather than treat symptoms, an osteopathic physician will consider your level of fitness, dietary habits, stress level and other factors in treating the underlying cause of your pain.  Through a series of gentle manipulations, including stretching, resistance and gentle pressure, osteopathic physicians can detect and treat issues that affect your overall health and function within just a few visits—typically without drugs or surgery. Dr. Shane Patterson has successfully treated patients for chronic pain resulting from failed back surgeries, failed knee or hip replacements, sciatica chronic back pain, neck pain, joint pain syndromes, fibromyalgia, traumatic injury, overuse syndrome, carpal tunnel syndrome, costochondritis, extremity pain, TMJ syndrome, migraines, tension headaches, or musculoskeletal pain in pregnancy. Together with his caring staff, Dr. Shane Patterson will formulate a treatment plan that will help you manage your pain and improve your quality of life.
Pain Management Doctor Mount Clemens MI
Dr. Shane Patterson is pleased to offer his life-changing pain management and comprehensive health care services to patients in Mount Clemens. Mount Clemens, Michigan is a northeastern suburb of Detroit that takes its name from its earliest European settler. Today, "The Clem" as it is affectionately known,  has become a center of nightlife in Metro Detroit, drawing visitors from throughout the state to its many bars and pubs. If chronic pain is keeping you from enjoying life to the fullest in Mount Clements or anywhere in Lower Michigan, call or visit Dr. Shane Patterson online today to schedule your appointment.
If you are looking for a pain management doctor Mount Clemens MI, call 586.221.2791 or fill out the schedule an appointment form in the sidebar or below to learn more about Osteopathic Manipulative Therapy and how it can help you:
Schedule an Appointment
Fill out the form below for a call back from one of our office staff to schedule your appointment. If you need a same day appointment, please give us a call at 586.221.2791.