Are you looking for a pain management doctor Chesterfield MI?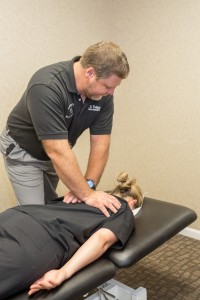 At Osteopathic Health Care Associates, we offer an individualized, holistic approach to healthcare. As an independent, full-service Internal Medicine practice, we offer personal care that focuses on what is best for you. Whether you suffer with chronic pain from migraines, degenerative joint disorders, sports or work injuries, or you struggle with the symptoms of lipedema or conditions that limit your mobility, we can help. Using medical techniques that are in keeping with the osteopathic philosophy and approach, we will perform a complete biomechanical examination and bring drug-free relief for pain management through a series of techniques that involve gentle pressure, stretching and resistance. This series of techniques is learned by medical students pursuing osteopathic medicine, and is known as Osteopathic Manipulative Therapy (OMT) and specializes as a pain management doctor. OMT has been shown to be effective in treating chronic pain because the manipulative techniques employed in the practice rebalance muscles and realign joints, alleviating strain and allowing the body to heal itself naturally. Athletes benefit from OMT through faster healing from injury, and improved balance and range-of-motion that can prevent future injury and enhance performance. Using manipulative medicine, nutritional therapies and exercise, we provide gentle, effective pain management treatments and comprehensive preventative health care for individuals and families.
Pain Management Doctor Chesterfield MI
Chesterfield, Michigan is a vibrant township in southeastern Lower Michigan. Known as "The Gateway to Anchor Bay," this community has all the conveniences of a large city with the comfort of small town life. With events like the "Boo Bash" and "Mother and Son Movie Morning Out," residents and visitors alike have the opportunity to enjoy time with friends and neighbors and celebrate all that Chesterfield has to offer. We at Osteopathic Health Care Associates are proud to serve the citizens Chesterfield and surrounding communities.
If you are looking for a pain management doctor Chesterfield MI, call 586.221.2791 or fill out the schedule an appointment form in the sidebar or below to learn more about Osteopathic Manipulative Therapy and how it can help you:
Schedule an Appointment
Fill out the form below for a call back from one of our office staff to schedule your appointment. If you need a same day appointment, please give us a call at 586.221.2791.