Are you looking for a pain management doctor Bruce Township MI?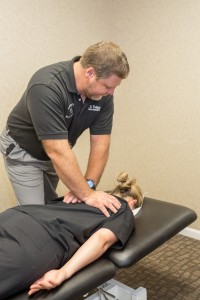 For patients who have not found relief for chronic pain, there is an alternative to typical medical treatments that involve surgery, addictive drugs, endless chiropractic appointments, lost work and sometimes, years of suffering. At Osteopathic Health Care Associates, Dr. Shane Patterson and our staff provide comprehensive preventative care and pain management in a patient-centered, internal medicine practice that is based on patient education and treating you as a whole individual. By assessing the full picture of your health, including factors like nutrition and stress, we can alleviate or eliminate the underlying cause of your chronic pain without drugs or surgery.
We specialize in using a series of manual techniques known as Osteopathic Manipulation Therapy (OMT) to conduct a palpatory exam over the body, looking for pain and restricted movement. When abnormal function is detected, stretches, gentle pressure and resistance are used to realign joints and restore healthful function and provide long-term pain relief. Through the use of Osteopathic Manipulation Therapy,  Dr. Patterson and our staff provide safe and effective relief for chronic pain resulting from failed back surgeries and knee or hip replacements, sciatica, chronic back pain, neck pain, joint pain syndromes, osteoarthritis, fibromyalgia, traumatic injury, overuse syndrome, carpal tunnel syndrome, costochondritis, extremity pain, pinched nerves, TMJ syndrome, migraines, tension headaches, or musculoskeletal pain in pregnancy. Identifying and treating the underlying cause of your chronic pain can provide effective relief in relatively few treatments.
Pain Management Doctor Bruce Township MI
Dr. Patterson proudly serves the pain management needs of patients in Bruce Township, Michigan. Bruce Township is located in Macomb County, and known for being home to the Ford Motor Company Proving Grounds and the stately homes that dot this largely rural area. Businesses in the area reflect the growth in home construction, and services that provide for life's necessities. Whether you spend your days plowing the back field, or putting the latest concept car through its paces on the track, you need the same effective relief for chronic pain. Learn more about Dr. Patterson's innovative pain management practice and schedule your first appointment.
If you are looking for a pain management doctor Bruce Township MI, call 586.221.2791 or fill out the schedule an appointment form in the sidebar or below to learn more about Osteopathic Manipulative Therapy and how it can help you:
Schedule an Appointment
Fill out the form below for a call back from one of our office staff to schedule your appointment. If you need a same day appointment, please give us a call at 586.221.2791.