Are you looking for a pain management doctor Armada MI?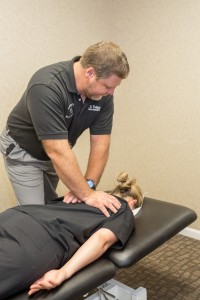 Dr. Shane Patterson and the professional staff at Osteopathic Health Care Associates specialize in chronic pain management and preventive care, often helping patients avoid costly, unnecessary surgeries and imaging studies. We primarily conduct musculoskeletal pain management through Osteopathic Manipulative Therapy (OMT) to reduce and permanently eliminate acute and chronic pain due to migraine headaches, osteoarthritis, fibromyalgia, tension headaches, lipedema, degenerative joint disorders, sinus issues, carpal tunnel, back and neck pain, sports, auto and work-related injuries, costochondritis, extremity pain, TMJ syndrome, migraines, tension headaches, or musculoskeletal pain in pregnancy and conditions that limit your mobility.
As a Board Certified Internist and an adherent to the Osteopathic Philosophy, Dr. Shane Patterson treats the whole patient, mentally, spiritually and physically. By identifying and eliminating the underlying cause of your chronic pain, symptoms can often be completely eliminated after a short series of treatments. A palpatory exam, using the hands, is conducted over the entire body, looking for tenderness, pain or restriction in motion. When abnormal function is detected, doctors who practice OMT use stretches, gentle pressure and resistance to realign joints and restore unimpeded function. Restoring normal function empowers your body to heal itself the way it was intended. We incorporate nutritional instruction and suggest ergonomic lifestyle changes that allow your body to move more comfortably.
Pain Management Doctor Armada MI
Dr. Shane Patterson proudly offers his pain management and patient-centered health care to residents of the charming village of Armada and its surrounding communities.  Armada, Michigan is known for its landmark grain elevator  and train depot, its charming downtown, and the nationally-known pie company that was founded there. Residents of Armada enjoy a simple, agricultural life. The many farms in the area often include horse barns, where riding lessons are given and show horses are raised. In Armada, hard work is both an obligation and a pleasure. If chronic pain has kept you from caring for your home and living the life you want, there is hope. Call or visit Dr. Shane Patterson at Osteopathic Health Care Medicine today to gain a new perspective on pain management and a new lease on life.
If you are looking for a pain management doctor Armada MI, call 586.221.2791 or fill out the schedule an appointment form in the sidebar or below to gain a new perspective on pain management and a new lease on life:
Schedule an Appointment
Fill out the form below for a call back from one of our office staff to schedule your appointment. If you need a same day appointment, please give us a call at 586.221.2791.