Are you looking for a pain management doctor Anchor Bay MI?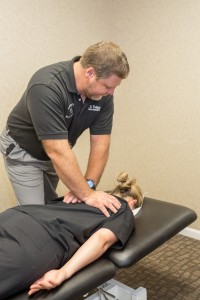 Dr. Shane Patterson is a board-certified Internal Medicine physician who provides preventative care and specializes in pain management following the Osteopathic philosophy. At Osteopathic Health Care Associates, Dr. Patterson and his dedicated staff help patients seek relief from chronic pain due to  migraines, low back pain, sciatica, neck pain, osteoarthritis, fibromyalgia, tension headaches, carpal tunnel syndrome, pinched nerves and degenerative disc disease, sports, auto and work related injuries, degenerative joint disorders, limited mobility conditions and lipedema in a patient-centered environment.
As a pain management specialist, Dr. Patterson is devoted to treating injury and illness, along with helping patients find immediate and lasting relief from chronic pain utilizing the latest research and cutting-edge Osteopathic Manipulation Treatment techniques. Dr. Patterson has been specially trained in hands-on examination and the use of techniques that treat musculoskeletal problems with stretching, resistance and gentle pressure to alleviate strain and allow proper function of your body. This series of specialized manipulation techniques is known as Osteopathic Manipulative Therapy (OMT), and it allows your body to heal itself naturally without drugs or surgery. Osteopathic physicians examine, diagnose and treat each patient as a whole individual, rather than a series of symptoms, with the understanding that our bodies are a series of connected tissues and systems that rely on each other to function properly. Misalignment or inflammation in your body affects nearby tissues and structures, resulting in pain and disease. By identifying and eliminating the underlying cause of your chronic pain, proper function can be restored, resulting in symptoms that are often completely eliminated after a short series of treatments.
Pain Management Doctor Anchor Bay MI
Dr. Patterson provides comprehensive pain management and health care services for residents of Anchor Bay, Michigan and its neighboring communities. Anchor Bay is a lovely community that grew on the shores of Lake St. Clair. Recreational opportunities abound on beautiful Lake St. Clair, the St. Clair River and connected nearby waterways. Residents of Anchor Bay enjoy the beauty of a resort town with the convenience of being just a short drive away from the culture and nightlife of Metro Detroit. If chronic pain has kept you from getting the most of where you live, Dr. Shane Patterson today to learn more about his individualized treatment and pain management services.
If you are looking for a pain management doctor Anchor Bay MI, call 586.221.2791 or fill out the schedule an appointment form in the sidebar or below to learn more about Osteopathic Manipulative Therapy and how it can help you:
Schedule an Appointment
Fill out the form below for a call back from one of our office staff to schedule your appointment. If you need a same day appointment, please give us a call at 586.221.2791.