Are you looking for osteopathic manipulative therapy Sterling Heights MI?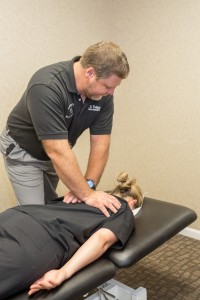 Whether you're young enough to still have your parents taking care of you or you're so old that you're currently being taken care of by your kids, pain caused by various musculoskeletal conditions can negatively interfere with your life. Finding a lasting solution to the many symptoms associated with musculoskeletal conditions, including restricted mobility and loss of proper joint or muscle function, without relying on modern treatments may at one point have seemed hopeless, but not anymore. Thanks to osteopathic doctors, like Dr. Shane Patterson and Dr. Ryan Christensen at Osteopathic Health Care Associates, there is a better way. Osteopathic Manipulative Therapy is a holistic, hands-on, and drug-free approach to the treatment of the many musculoskeletal conditions that continue to impact the way countless Americans live, work, and play every day. Osteopathic Manipulative Therapy is more than just an alternative for the most popular medical treatments; it is a viable solution to the problems that hundreds of millions of people face everyday. See why so many people choose to trust in the power of Osteopathic Manipulative Therapy over any other treatment method today, only at Osteopathic Health Care Associates.
Osteopathic Manipulative Therapy Sterling Heights MI
At Osteopathic Health Care Associates, we're proud to give our remarkable osteopathic doctors the opportunity to utilize Osteopathic Manipulative Therapy to help people in Sterling Heights, MI, find the relief they deserve from the pain that plagues their life. Less than a 20-minute drive from the Osteopathic Health Care Associates office in Utica, the community of Sterling Heights boasts an exceptional 10,000 years of known history starting with the Paleo Indians. Originally drawn by the abundance of natural beauty and ideal access to waterways and open land, the Native American's founded Sterling Heights never knowing how it would eventually grow and change into the thriving place that it is now. Today, that same expansive land and all the plentiful resources that are included with it still impacts the community of Sterling Heights in many ways, such as stabilizing a vibrant economy and providing exceptional tourism and recreation. Unfortunately, you cannot thoroughly enjoy all the recreation that Sterling Heights has to offer if you are living in constant pain or have seriously limited mobility, but thankfully the osteopathic doctors at Osteopathic Health Care Associates are prepared to help with the use of Osteopathic Manipulative Therapy. Don't trust the "Band-Aid" solution of flooding your system with a barrage of pharmaceutical medications; try the therapy that actually works: Osteopathic Manipulative Therapy, available at Osteopathic Health Care Associates, today.
If you are looking for osteopathic manipulative therapy Sterling Heights MI, call 586.221.2791 or fill out the schedule an appointment form in the sidebar or below to learn more about Osteopathic Manipulative Therapy and how it can help you:
Schedule an Appointment
Fill out the form below for a call back from one of our office staff to schedule your appointment. If you need a same day appointment, please give us a call at 586.221.2791.