Are you looking for osteopathic manipulative medicine doctors Troy MI?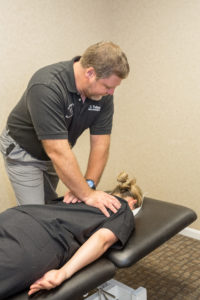 If you're anxious to discover a way to enjoy real, lasting relief from your daily musculoskeletal aches and pains, you should consider making an appointment with one of our skilled Osteopathic Manipulative Medicine doctors at Osteopathic Health Care Associates right away. Specially trained in holistic internal medicine, specifically in relation to prevention and recovery, our Osteopathic Manipulative Medicine doctors can help you manage and/or eliminate any pain or discomfort you may be experiencing thanks to our team's years of experience and surplus of skill. After all, our Osteopathic Manipulative Medicine doctors, Dr. Shane Patterson and Dr. Mary Goldman, are each highly-trained and well-regarded healthcare professionals with passions for helping patients of all ages live their best lives. By choosing to rely on non-invasive techniques, like Osteopathic Manipulative Medicine, rather than potentially harmful medications or surgical procedures, our doctors are able to ensure that our patients receive the absolute best care with the least side effects. Our Osteopathic Manipulative Medicine doctors deeply understand how powerful your body naturally is, and how you can find the relief you're looking for without subjecting yourself to further physical complications. To start noticing significantly less pain, sleeping better, and feeling more amazing than ever before, take advantage of the comprehensive expertise of our knowledgeable Osteopathic Manipulative Medicine doctors at Osteopathic Health Care Associates today.
Osteopathic Manipulative Medicine Doctors Troy MI
At Osteopathic Health Care Associates, we're proud to give our remarkable Osteopathic Manipulative Medicine doctors the opportunity to help patients in Troy, MI, find the pain relief they deserve. If you're looking for incredible shopping, entertainment, or professional opportunities, the city of Troy is where you should be. Ranked on the largest and safest cities in all of Michigan, Oakland County's Troy has even been awarded official recognition as one of the "Best Places to Live" in the country thanks to its abundance of excellence in everything from communal amenities to incredible attractions. The Troy Historic Village, for instance, is a wildly popular and fully interactive museum designed to make learning about Troy's past as fun as possible, while sports fans are sure to love all of the local programs available throughout the community. In fact, Troy was even named Michigan's "Sportstown" in 2003 by Sports Illustrated magazine for having the best programs in the state! Of course, if you can no longer go out and enjoy the plethora of recreational activities there are to enjoy all throughout Troy because of a debilitating physical injury or condition, that doesn't mean you have to give up on your body completely. If you're a resident of Troy, our Osteopathic Manipulative Medicine doctors at Osteopathic Health Care Associates can help you feel like your old self again by showing you a better, easier way to greater health!
If you are looking for osteopathic manipulative medicine doctors Troy MI, call 586.221.2791 or fill out the schedule an appointment form in the sidebar or below to learn more about Osteopathic Manipulative Therapy and how it can help you:
Schedule an Appointment
Fill out the form below for a call back from one of our office staff to schedule your appointment. If you need a same day appointment, please give us a call at 586.221.2791.