Are you looking for osteopathic doctors Utica MI?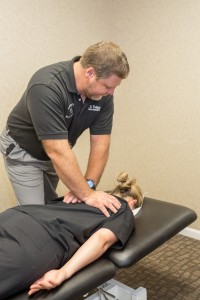 When a doctor wants a quick diagnosis, he or she will ask about your symptoms and that's about it. When a doctor cares about the patient, he or she will ask personal questions about lifestyle, mood, environment, stress, and more in addition to the basic analysis of symptoms. By understanding the life of the patient, osteopathic doctors are able get the most accurate diagnosis and help the patient heal naturally by encouraging the body's natural abilities. This aggressive, hands-on approach to medicine tackles every concern that may be affecting the patient's health, allowing them to experience whole-body healing that relies on the use of Osteopathic Manipulative Therapy to treat and prevent countless illnesses instead of potentially harmful medications and risky operations.
By choosing an osteopathic doctor like those at Osteopathic Health Care Associates, you are ensuring that you get the most comprehensive medical care possible. You are allowing yourself the opportunity to be heard be a professional osteopathic doctor, and you do so knowing that they are listening to you and utilizing every part of your life to accurately diagnose you with one of many potential conditions. Once the right diagnosis is discovered, osteopathic doctors use a variety of hand-on, drug-free techniques known as Osteopathic Manipulative Therapy to help restore your body to its optimal functionality, helping to prevent you from experiencing future injuries, diseases, and illnesses without the use of prescription medications and unnecessary surgeries. Finding a doctor you can trust has never been easier; just choose one of our osteopathic doctors at Osteopathic Health Care Associates.
Osteopathic Doctors Utica MI
Dr. Shane Patterson and the dedicated staff at Osteopathic Health Care Associates are proud to offer gentle, drug-free sports medicine to residents of Utica, Michigan. At Osteopathic Health Care Associates, we're proud to have such an exceptional staff of osteopathic doctors, and are eager to help residents of Utica, MI, live better, healthier lives thanks to Osteopathic Manipulative Therapy. Utica offers residents and visitors the opportunity to enjoy a variety of amenities and economic development as well as an abundance of natural beauty and small-town charm. With an inspiring collection of top-rated schools, both private and public, as well as an ample supply of religious sanctuaries, exciting trails and parks, historically significant homes, and sensational places to eat and shop, it's easy to see why people choose Utica as their preferred place to live, work, and play. Let the osteopathic doctors at Osteopathic Health Care Associates help you find a path to greater overall health, comfort, and wellness.
If you are looking for a osteopathic doctors Utica MI, call 586.221.2791 or fill out the schedule an appointment form in the sidebar or below to learn more about Osteopathic Manipulative Therapy and how it can help you:
Schedule an Appointment
Fill out the form below for a call back from one of our office staff to schedule your appointment. If you need a same day appointment, please give us a call at 586.221.2791.