Are you looking for osteopathic doctors Romeo MI?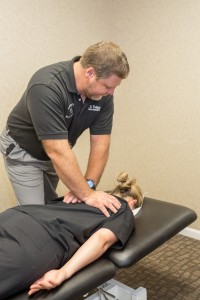 Despite what many people believe, pharmaceutical treatments are not the one and only course of action for every possible condition, nor is it always the best treatment method depending on your illness. On the other hand, no one should ever resist necessary medication or other forms of modern medicine, if said treatments could save your life. The thing that people need to remember is that balance can be achieved between modern advancements and natural alternative treatments, creating a harmonious method to restore a patient's health quickly and prevent future concerns. It doesn't have to be one or the other, especially when they work so well together. At Osteopathic Health Care Associates, our osteopathic doctors use their knowledge and experience of both sides of the medical spectrum to analyze the root causes of your pain, exhaustion, migraines, and more and help them discover an effective combination of treatments.
Osteopathic doctors train and study for many years in the field of medicine, learning how each part of the body, mind, and spirit as well as the environment and chosen lifestyle of a patient can affect their overall health. Eagerness to treat a patient quickly can result in professionals overlooking vital information and lead to improper diagnosis, worsening health, and more for the patient. Osteopathic Manipulative Therapy uses a drug-free approach to healthcare that encourages your body's natural self-healing and defense capabilities. Finding a doctor you can trust has never been easier; just choose one of our osteopathic doctors at Osteopathic Health Care Associates.
Osteopathic Doctors Romeo MI
Dr. Shane Patterson and the dedicated staff at Osteopathic Health Care Associates are proud to offer gentle, drug-free sports medicine to residents of Romeo, Michigan. At Osteopathic Health Care Associates, we're proud to have such an exceptional staff of osteopathic doctors, and are eager to help residents of Romeo, MI, live better, healthier lives thanks to Osteopathic Manipulative Therapy. Romeo, where the picturesque clean streets, quiet sidewalks, timeless architecture, and generally vibrant atmosphere emitting from the community draw in countless tourists every year. Large old Victorian homes and unique storefronts offer peaceful and quaint places to live and shop within this tiny town, with a bustling Main Street split right through downtown. Various orchards and farms fill the air with a sweet aroma during certain times throughout the year, but trust us when we say that smelling flowers isn't the only thing you'll want to do during your next stay in Romeo. Let the osteopathic doctors at Osteopathic Health Care Associates help you find a path to greater overall health, comfort, and wellness.
If you are looking for a osteopathic doctors Romeo MI, call 586.221.2791 or fill out the schedule an appointment form in the sidebar or below to learn more about Osteopathic Manipulative Therapy and how it can help you:
Schedule an Appointment
Fill out the form below for a call back from one of our office staff to schedule your appointment. If you need a same day appointment, please give us a call at 586.221.2791.