Are you looking for osteopathic doctors Rochester MI?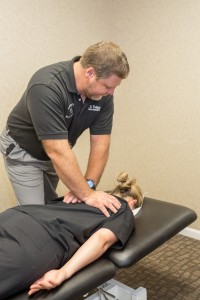 Despite all the wonderful things the miracle of modern medicine has allowed us to accomplish on a global scale, osteopathic doctors, like Dr. Shane Patterson and Dr. Ryan Christensen, still believe that the best course of action for ensuring long-term relief from chronic pain and musculoskeletal conditions is a holistic approach that focuses on self-healing through Osteopathic Manipulative Therapy techniques. At Osteopathic Health Care Associates, our osteopathic doctors are highly-trained to specifically understand the complexities of the human body, including the amazing capabilities it has to work alongside modern medical practices to successfully recover from nearly any injury, condition, and more. Their extensive knowledge and expertise regarding osteopathic medicine allows them to look beyond the symptoms of any patient and effectively determine what type of treatment and overall lifestyle changes may benefit them. When it comes to getting the treatment you deserve, without the frighteningly invasive methods used by countless health care professionals, trust osteopathic doctors, Dr. Shane Patterson and Dr. Ryan Christensen, of Osteopathic Health Care Associates.
Osteopathic Doctors Rochester MI
At Osteopathic Health Care Associates, we're proud to offer the most exceptional osteopathic doctors to residents living in Rochester, MI. Only an hour's drive from all of the incredible restaurants, boutiques, entertainment, and more available in Detroit, residents of Rochester are able to enjoy all the perks of living close to the big city without sacrificing their own privacy, small city charm, and picturesque communal beauty. With a commitment to ensuring a high standard of life for all its residents, Rochester continues to prove its excellence as a community though being open to even the smallest concerns of any respected citizens. Having been recognized numerous times for being one of the best places in the entire country to live, Rochester continues to openly welcome anyone looking for a place that offers unparalleled beauty, outstanding communal and emergency services, recreational potential for all ages, and more. Whether you're close to retirement and looking for a place to enjoy your golden years, or a Rochester native, one of the best things about living in Rochester is being so close to esteemed osteopathic doctors, Dr. Shane Patterson and Dr. Ryan Christensen, at Osteopathic Health Care Associates. For the most comprehensive pharmaceutical-free treatment to help relieve chronic pain caused by any conditions that affect your bones, joints, muscles, and more, call the osteopathic doctors at Osteopathic Health Care Associates, today, to find out how you might benefit from Osteopathic Manipulative Therapy and other holistic treatments. A pain free life might only be a phone call away.
If you are looking for osteopathic doctors Rochester MI, call 586.221.2791 or fill out the schedule an appointment form in the sidebar or below to learn more about Osteopathic Manipulative Therapy and how it can help you:
Schedule an Appointment
Fill out the form below for a call back from one of our office staff to schedule your appointment. If you need a same day appointment, please give us a call at 586.221.2791.