Are you looking for osteopathic doctors Clinton Township MI?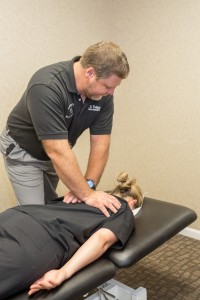 Osteopathic doctors are healthcare professionals who offer all the same modern medical treatments like medication, surgery, and more while also taking a holistic and hand-on approach with every patient. Osteopathic doctors utilize a unique form of treatment called Osteopathic Manipulative Medicine, which refers to the numerous techniques that can be used to treat problems in the bones, joints, tissues, and muscles of your body. These techniques may include high velocity – low amplitude thrusts, strain – counterstrain, myofascial release, and more.
Osteopathic doctors go through years of specialized training to be able to perform the various techniques used to treat a number of injuries, illnesses, and more by helping your body naturally restore optimal functionality in less time than other more conventional and invasive treatments. Osteopathic doctors consider every part of the patient's physical, mental, emotional, and spiritual well-being to determine the best way for managing pain, discomfort, and more. We believe in the bodies natural ability to recover and heal without treatments that cause negative side effects and longer recovery times. Known primarily for its success in treating various musculoskeletal conditions, Osteopathic Manipulative Medicine can actually be used anywhere on the body to promote faster healing and greater functionality.
Osteopathic Doctors Clinton Township MI
Dr. Shane Patterson and the dedicated staff at Osteopathic Health Care Associates are proud to offer gentle, drug-free treatment by osteopathic doctors in Clinton Township, Michgan. We are proud to have an incredible staff of osteopathic doctors at Osteopathic Health Care Associates, and look forward to helping residents of Clinton Township, Michgan, with our exceptional Osteopathic Manipulative Medicine techniques and other services. Clinton Township is a relatively small, yet vibrant community filled with exceptional amenities and services. Hometown to numerous noteworthy people including famous rapper Eminem, Clinton Township offers a home to a diverse population, and is even the location for The Italian American Cultural Society (IACS) headquarters. Clinton Township offers all the modern conveniences a town would need, while also holding onto the traditions of their history. Visit Moravian Drive for a glimpse into the past and see the oldest road in Michigan dating all the way back to when the Moravian Missionaries first settled here, or just find a restaurant you love and relax. No matter what you like to do, Clinton Township is sure to have everything you need. Let the osteopathic doctors at Osteopathic Health Care Associates help you find a path to greater overall health, comfort, and wellness.
If you are looking for a osteopathic doctors Clinton Township MI, call 586.221.2791 or fill out the schedule an appointment form in the sidebar or below to learn more about Osteopathic Manipulative Therapy and how it can help you:
Schedule an Appointment
Fill out the form below for a call back from one of our office staff to schedule your appointment. If you need a same day appointment, please give us a call at 586.221.2791.