Are you looking for osteopathic doctors Bruce Township MI?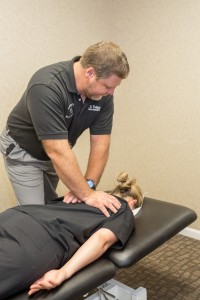 The biggest mistake that healthcare professionals make is not listening to their patients. All too often, patients who transfer their care to osteopathic doctors are already on unnecessary medications that are doing little more than hiding the underlying cause of their afflicting conditions. At Osteopathic Health Care Associates, our osteopathic doctors, Dr. Shane Patterson and Dr. Ryan Christensen, understand that in order to truly treat a musculoskeletal condition and provide lasting relief for a patient, they must look beyond the symptoms to determine an accurate diagnosis based every aspect of a patient's life and health. Osteopathic doctors, like Dr. Shane Patterson and Dr. Ryan Christensen, prefer to utilize a more holistic approach to the common conditions that plague the every day lives of millions across the globe, choosing Osteopathic Manipulative Therapy techniques over modern pharmaceuticals and risky operations. It is because of the hard work of Dr. Shane Patterson and Dr. Ryan Christensen at Osteopathic Health Care Associates, as well as the countless other osteopathic doctors around the world, that people, just like you, are able to finally get the relief from their pain they've been looking for, and enjoy waking up every day and experiencing new adventures. Plan your next adventure today, with the help of the osteopathic doctors at Osteopathic Health Care Associates.
Osteopathic Doctors Bruce Township MI
At Osteopathic Health Care Associates, we're proud to offer the most exceptional osteopathic doctors to residents living in Bruce Township, MI. Bruce Township is a rural community that although was once the home of many aborigines, today remains a charming small town that offers both a simple way of life and a vibrant local economy for all its residents. The natural beauty in Bruce Township is only accentuated by the fragrant aroma of the numerous orchards that bloom in the spring and summer, and its excitement factor is only increased by the abundance of thrilling recreational entertainment available including swimming, water/jet skiing, boating, fishing, and more. Bruce Township may be a welcoming community for visitors and potential residents of all ages, but its quiet and peaceful way of life is especially popular for people wishing to find a great place to enjoy their retirement. In a place as perfect as Bruce Township, it's important to make sure your bones, joints, and muscles are all functioning properly, otherwise you'll miss out on all the fun. Don't let pain stand in your way of your enjoyment another minute. Choose Osteopathic Health Care Associates to get in touch with one of our highly respected osteopathic doctors, and see all the ways natural treatments such as Osteopathic Manipulative Therapy can benefit you.
If you are looking for osteopathic doctors Bruce Township MI, call 586.221.2791 or fill out the schedule an appointment form in the sidebar or below to learn more about Osteopathic Manipulative Therapy and how it can help you:
Schedule an Appointment
Fill out the form below for a call back from one of our office staff to schedule your appointment. If you need a same day appointment, please give us a call at 586.221.2791.