Are you looking for osteopathic doctors Armada MI?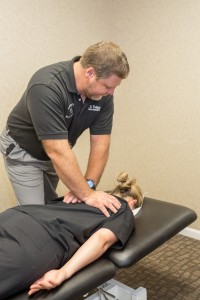 At Osteopathic Health Care Associates, our osteopathic doctors, Dr. Shane Patterson and Dr. Ryan Christensen, are proud to be able to effectively help countless people of all ages benefit from Osteopathic Manipulative Therapy. This hands-on form of treatment is one that does not rely on potentially harmful pharmaceuticals and invasive procedures, but rather focuses on the use of various manipulation techniques to encourage better joint function and promote self-healing. Osteopathic doctors, like Dr. Shane Patterson and Dr. Ryan Christensen, believe that treating an illness is more than just about treating the symptoms. They believe than in order to truly make a difference in a patient's life, you have to heal the body from within, managing the root cause of the illness to prevent it from getting worse. By trusting in the capabilities of osteopathic doctors, like Dr. Shane Patterson and Dr. Ryan Christensen, you can experience a better approach to treating a variety of common conditions that may have previously interfered with your day-to-day lifestyle. Don't let excessive pain and discomfort keep you from enjoying your life. Find out how Osteopathic Manipulative Therapy, and other incredible services performed by one of the osteopathic doctors at Osteopathic Health Care Associates, can help you feel better today.
Osteopathic Doctors Armada MI
At Osteopathic Health Care Associates, we're proud to offer the most exceptional osteopathic doctors to residents living in Armada, MI. Whether your idea of a good time involves taking advantage of all the fresh produce and great smells available in Armada's local Flea Market or spending an afternoon shopping and dining at some of the best restaurants and boutiques in Armada's vibrant, yet charming downtown district, you're sure to find everything you want and need in Armada. Enjoy easy access to all the recreation that Macomb Orchard Trail has to offer during the day, and then let loose at the numerous community festivals and events, including the Armada Fair, to ensure your vacation, or retirement, is packed full of non-stop adventure and excitement. Access to Anchor Bay and Lake St. Clair, as well as the southern shores of Lake Huron make Armada one of the best places for aquatic enthusiasts to live and vacation, but it isn't the only reason it's such a popular place to be. All the fresh air and natural beauty make Armada a great place to retire, but harsh Michigan winters can make maintaining optimal health throughout the year less than easy. Thanks to the exceptional osteopathic doctors working at Osteopathic Health Care Associates, staying healthy despite age and other variables has never been easier.
If you are looking for osteopathic doctors Armada MI, call 586.221.2791 or fill out the schedule an appointment form in the sidebar or below to learn more about Osteopathic Manipulative Therapy and how it can help you:
Schedule an Appointment
Fill out the form below for a call back from one of our office staff to schedule your appointment. If you need a same day appointment, please give us a call at 586.221.2791.